Subfish Tackle Shop in Tibshelf near Alfreton, Derbyshire has signed a new one year extension with the National Federation of Anglers, to continue their sponsorship of the Ladies England team.
The deal was signed with the NFA but will transfer to the new Angling Trust which will be launched in January 2009. To celebrate their second year of supporting the newly named 'Subfish Team England Ladies', the company will be launching a number of angling events at their tackle shop providing anglers with the opportunity to meet some of the sport's biggest stars.
Although timings are still to be confirmed, Subfish will be organising five unique events for 2009 including:
• Meet Tommy Pickering and the England Ladies at Subfish.
• Question and answer session with 2008 World Champion, William Raison.
• Show and tell with Phil and Steve Ringer on Ringer products.
• Garbolino products open day with Darren Cox.
• Charity fishing match and BBQ at Sub-fishery with Preston Innovations and Tommy Pickering.
These events will enable the angling community to really engage with team sponsors Subfish and provide an opportunity for anglers to pick up some top tips from the stars.
At last year's World Championships in Hungary, England had a great result, with Emma Pickering winning an individual gold medal. The team just missed out on a bronze for the third year in succession.
This year the team will be trying to emulate their male counterparts and do an Italian job as they travel to Italy looking not only to bring home another individual gold but also claim the team's first gold medal since 2005 when they won the World Championships in Zagreb.
On securing the continued sponsorship of Subfish, Tom Goldspink, Marketing and Communications Manager for the NFA, commented, "It is great news that Subfish have renewed their existing sponsorship of the team. With their new calendar of events for 2009, there is a real opportunity for them to support not only the ladies' team but also contribute to raising the profile of angling and increasing participation amongst women and girls."
With the sponsorship moving over to the Angling Trust in 2009, Chief Executive Mark Lloyd added, "The Angling Trust is very grateful to Subfish for its support of the ladies team. All our international teams rely on the support of sponsors to compete at the highest level. The teams' success has great benefits for angling as a whole, as it inspires youngsters to take up fishing and to fish more often."
Subfish are delighted to continue their involvement with the team stating, "Having travelled to Hungary this summer and witnessing a tremendous effort by the team, we are absolutely delighted to be able to continue our sponsorship for another year. As a family run company we felt proud and privileged to play a role in the team achieving such success and hope that this year will be even better. We wanted to do something special next year, so are putting a number of unique events on to give anglers the chance to meet some of the biggest stars in the sport. Our sponsorship will not only support the England team but also help grassroots angling as a whole, as we strongly believe in the Angling Trust's objective of increasing participation and getting more female anglers involved in the sport."
Tommy Pickering, England Ladies' Manager commented, "I am delighted that we have signed another year's sponsorship with Subfish. Last year three of their team came out with their partners to the World Championships and watched the match and experienced the great atmosphere and success that we had with Emma Pickering. It was great for Subfish to see the other side of where their support goes and how it is vital to supporting the team. With the involvement of Subfish it is not only great for fishing but also its future and this year let's hope that we can win them a team medal as well".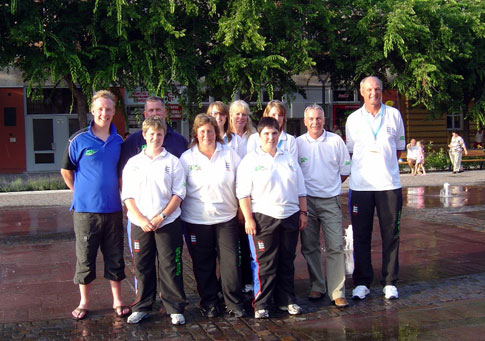 England Ladies Team