Andy Fullylove, and 18-year-old angler from Allesley in Coventry, took this year's 100-angler Barston Bowl by storm, after catching 100lb 10oz from fancied peg 17.
The pegs near the car park produced a string of good carp weights and dominated, and Andy's Method tactics accounted for fish to 15lb, plus a few big skimmer bream.
Andy went home £1,000 better off, and with the fantastic Barston Bowl silver trophy to keep for a year.
The second placed angler was actually not pegged in the teens, but across the lake on peg 123 where Tim Bull fished long for an all-carp net going 73lb.
Last year's winner Maurice Williams put up a solid defence and weighed in 65lb from the peg next to the winner.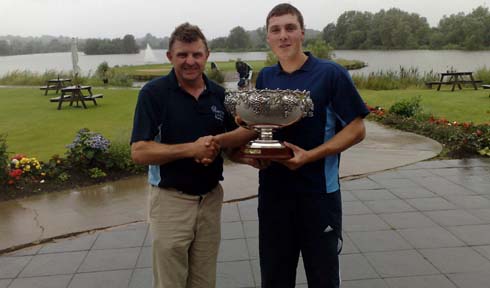 Andy Fullylove receives the silver Barston Bowl trophy from venue owner Nigel Harrhy.
Sections: (100 fished)
A Dave Lewis 42.6
B Andy Fullylove 100.10 (overall winner)
C Mick Bull 56.14
D Mark Casemore 14.6
E Rob Cooksey 37.6
F Lee Barry 28.0
G Dave Rossi 31.0
H Tommy Pickering 31.6
I Lee Werritt 32.10
J Tim Bull 73.6
Total-Fishing.com – the No1 online community for match anglers