Shakespeare Championship Qualifier
Sunday July 26th
Warwickshire Avon – Evesham Town Waters and Hampton Ferry
54 pegs


It was a case of 'after the Lord Mayor's show' in Sundays qualifier which was fished in gale force wind and rain saw a river which had lost its colour from the previous day turn hard again.
One man who wasn't too unhappy about the conditions at the end of the five hours though was match winner John Curtis who booked his place in the final from Peg 14, just above the slipway.
Presentation with any rig was almost impossible in the conditions but John persevered with hemp fished under a light rig at 11 metres to winkle out 3lb of small roach in the first four hours. He then switched to a close in line with worm to snare a 5lb tench and boost his score to a match winning 8-5-0.
Second place, at Peg 8, went to Martin Folkes who feeder fished with chopped worm and caster for 5-15-0 of eels.
Third was Robert Goddard with 4-12-0 of feeder fished eels and perch from Peg 68 and he was followed by Richard Hall with 4-11-0 of eels and perch from Peg 20.
Fifth place went to Gary Seadon with 4-6-0 of roach on hemp from Peg 36 and the final main list place went to Ian Sutherland with 4-2-0 of eels and perch from Peg 46.

Result
1. John Curtis (Daiwa Gordon League) 8-5-0 (peg 14)
2. Martin Folkes (Carbotec) 5-15-0 (peg 8)
3. Robert Goddard (Bait Box) 4-12-0 (peg 68)
4. Richard Hall (Alcester Sports) 4-11-0 (peg 20)
5. Gary Seadon (Evesham) 4-6-0 (peg 35)
6. Ian Sutherland (Land Rover) 4-2-0 (Peg 46)

Qualifiers: John Curtis, Ian Sutherland and Robert Goddard

Next qualifier – Saturday August 2nd – bookings through Diana Raphael on 01386 442458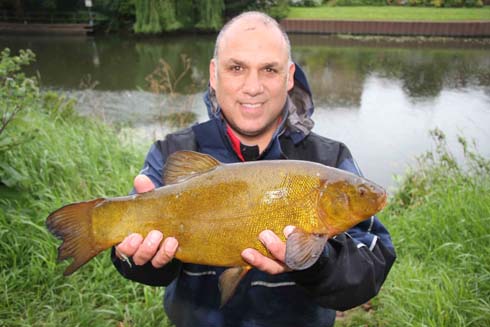 John Curtis with the late tench that secured him a place in the final
Total-Fishing.com – the No1 online match angling community