After more than 40 years of avoiding trying to catch a 20lb-plus carp, tcf editor Gareth Purnell finally gets talked into having a go – in the worst storm of the winter!

It's wet. It's windy. It's winter. And the weatherman has promised to add 'wild' into the cocktail later this evening.
I should by rights be relaxing on the sofa, Sky TV remote control in one hand, can of Carlsberg in the other, settling in for a night of Champions League football.
Instead I'm struggling to get to grips with bivvies, boilies and even bait boats on a lake somewhere in the southeast of England, a freezing and storm-lashed night under the stars ahead of me.
What, or rather who, could have driven me to this insanity? Enter Korda's Mr Fix It, Ali Hamidi. I must have accidentally told him that despite being the wrong side of 40 I've never caught a 20lb carp. In fact, I've never even fished for one, bar a couple of half-hearted attempts on the River Nene, which only produced the odd tench.
I've certainly never bivvied up before, heaven forbid. Yeah, I've fished into darkness a few times, but always with the prospect of a warm bed at the end of the session.
That's all about to change. Ali has been having it away this summer on a quiet, four-acre lake he's stumbled upon near his Colchester home.
Taking in the venue and its three islands, I can hardly believe it's only four years old – it looks much more mature than that. Conveniently you can drive almost to the lakeside – something that is later to prove a lifesaver – and flora and fauna are both well established. There are the winter remains of patches of lilies in the margins, and I imagine that in summer this is a beautiful setting. But it's cold, the leaves have long since blown off the trees, and the resident moorhens are enjoying the gusting wind about as much as I am.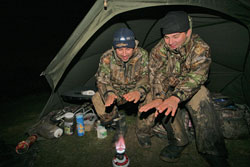 Don't attempt anything without the Pringles and the loo roll!
So why are we here? For the fish, of course, or one of them. The owner stocked single-figure carp some four years ago and almost all of them are over 20lb now. In that first year the margins were alive with carp fry within weeks. But a consignment of predators soon sorted that problem out and the big fish have been allowed to grow fat in peace.
Ali's had over 30 carp here since May, and only two have been under 20lb. If I can get a run there's every chance of beating my personal best, a 15-pounder I landed on a surface set-up a few years back.
But it's a very big 'if'. The venue might be productive in the warmer months, but it's by no means heavily fished, so it strikes me as unlikely to be much cop once the mercury plummets. I've tested the water and my scientific diagnosis is that it's bloody freezing!
In some ways I'm quite pleased. I always promised myself that if ever I was to go over to 'the dark side' and end my self-imposed veto on targeting big carp it should at least be a challenge.
I had envisaged catching a lean, mean, river machine. Even though I know that most big carp in rivers have probably found their way in from stillwaters so my stance is somewhat lacking in logic, for me there will always be something more wild and mysterious about a running water carp than one in a stocked stillwater.
But going for a 20lb carp in mid-December when 90 per cent of carpers have packed away their Delkims for the winter certainly fits into the 'challenge' category – and some. In fact, one of my big fish mates, who owns a carp fishery himself, has wagered me £20 that I'll blank (he's fished with me before, mind!).
The good news is that Ali has the confidence of a man who has yet to fail on a water. He's more confident than I am, that's for certain.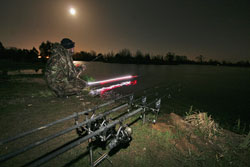 To infinity… and beyond. Ali continues his bait boat experiment…
Ali has been weaning the fish onto a certain type of boilie for months now. He's been feeding them Mainline's Activ-8 boilies regularly over the preceding months, and put some in two nights ago. Ali rates Activ-8 highly, although he says you can do this with any high-quality bait. If you put enough in the fish come looking for it, he says.
You know what, as I've only ever caught about five fish on boilies I'm going to believe him!
I'm not overly prepared – other than on the warm clothing front. I've got six layers on! I can't wear my favoured Balfour wellies to keep my feet warm as I've sprained my ankle and it's blown up to the size of Colchester. But I've got my trusty Seal Skinz socks on, which are also excellent.
No, the tackle will be donated for the session by my small Iranian friend. I'm borrowing the whole kit and caboodle, including bedchair, sleeping bag, rods, reels, rigs, bait, even the Armadillo bivvy, which I've eventually worked out how to set up, I think.
Ali's set me up with a Shimano rod and reel combination with 12lb Catana line, which he's purring about. At the business end there's a Safezone leader with a Korda flat lead in a lead clip to create a safe, semi-fixed presentation. The rest of the set-up you can see in the diagram – Ali's caught most of his fish this year on his 'snowman' set-up, a standard Active-8 boilie with a smaller, yellow pop-up above. The pop-up has a distinct citrus scent and taste (yes, I have a quick bite myself!). The bait sits enticingly up off the bottom and is easily visible over any decaying matter on the bottom.
It's the same set-up on all three rods. The left-hand rig is being fished close to the point of the left-hand island. The middle rod is in open water where the water is around two metres deep, and the right-hand rod is being fished tight to the right-hand island in shallower water.
Before the rigs go out I take a closer look. I'm struck by just how sharp the Korda Hybrid Longshank hooks are – the point's like a surgical needle. Ali says he makes 'a point' of picking out the sharpest in the packet. There is lot of weed on the bottom, which although it's dying back the fish can easily find. Without a perfect hook hold, it's all too easy to lose fish in the weed. He's a real perfectionist – he changes hooklength and hook after every fish.
I ask him about the seven-inch Sufix Sheath Skin hooklength – it's from the family of stiff braids. Ali has removed the skin only over the last two inches nearest the hook.
This achieves a few things. Firstly, when the rig sinks the stiff part of the hooklength prevents the rig landing in a heap. It's pushed away from the lead, which is important, as a fish only has to move slightly with the bait in its mouth before contacting the weight of the lead and triggering the self-hooking effect.
The second key benefit is ensuring a hook-up should a fish take the bait. The supple last two inches will mean that the bait feels natural to the fish as it picks it up. But the stiff braid behind it makes it difficult for the fish to eject. Ali asks me to imagine someone feeding you with a fork. Once the fork's in your mouth, it would be hard to spit the food out…
I ask about the green colour. It's useful if fishing over weed, but irrelevant at night.
Okay, that's enough of the technical stuff, now for a bit of fun. After acquiring a bait boat for a big carp match earlier in the year, Ali's been experimenting with it at home, fishing one rod by baiting with the boat and two using standard PVA bag tactics (see panel). It's proved inconclusive. Personally I'd ban them if I owned a fishery. But hey, they're allowed here and I have a rare old time sending the thing in the wrong direction before finally getting my rig to the chosen spot and depositing hook bait, rig and feed in one big pile. If my match fishing pals could see me now I'd never hear the last of it!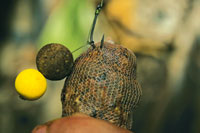 The PVA bag is hooked simply onto the snowman set-up like this.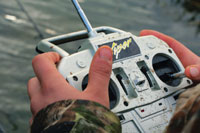 This is the fun bit, steering the bait boat to the required spot.
The other two rods are cast into position: mesh PVA bags of crushed boilies, groundbait and some hemp attached.
We're fishing at 3.30pm with perhaps 45 minutes of light remaining in the day. Time to brew up and as we do so a venue regular, John, turns up. He fished here three days ago, but blanked!
Still Ali is not concerned. He points to the relatively mild air temperature and reckons that there will still be 'two or three' feeding spells in a 24-hour period. If it was colder they'd still feed once. Feeding patterns of carp tend to reverse in winter, he says. In the warmer months you tend to catch them by night. But as it gets colder those short feeding spells are more than likely to occur during the day, when the sun can warm the water temperature by that vital couple of degrees.
Ali fancies the morning as our best chance, which begs the question: what am earth am I doing here now rather than being in bed with the wife?!
At least I've got my trusty radio for company. Kick off comes and goes. Man Utd go one behind, but beat Benfica easily to top their group. West Ham lose again, at home to Wigan.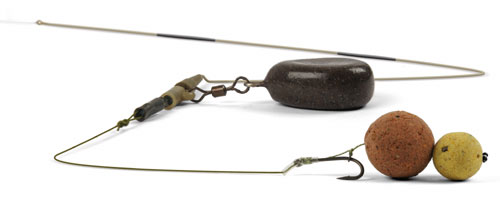 It's now 11pm and I'm settling in for the evening, boots off, sleeping bag zipped up. West Ham skipper Reo-Coker is coming in for pelters in the post-match phone-in.
The wind is really getting up now, buffeting the sides of my bivvy and making the Delkims sing intermittently as they swing around and the waves get up.
I'm nodding off as another caller demands Reo-Coker steps down as club captain. The alarms still bleep away, only this time for longer.
Suddenly reality kicks in at the same time as the adrenaline, as I'm dragged from my semi-slumber. Panic sets in as the zip sticks on my sleeping bag. I fumble for my glasses, and my wellies are only half on as I slide (hippopotamus-like) across the mud towards my screaming bite alarm.
Relief as I pick up the middle rod and the fish is on, a moving object somewhere out there in the darkness. As instructed, I've kept the Baitrunner on at first, slowing the spool with my index finger and only disengaging it with a half-turn of the reel handle when I take my first few inches of line on the unseen fish.
As I can't see a damned thing I concentrate on keeping a good bend in the 2.5lb test curve rods to ensure a hook hold. I'm gradually gaining line and growing in confidence when disaster strikes! Suddenly all is solid, and I immediately know the fish has found a bed of weed and disappeared into the middle of it.
I know that in mid-December I'm not going to get many chances – I can't afford to lose it. Ali tells me to keep calm. The important thing is to keep the pressure on and to gradually move backwards without giving line to try and draw the fish out. He's got great confidence in his Catana mono and encourages me to exert more force than I really dare.
At first all stays solid and the line sings in the wind – surely it's close to breaking point? But then I feel a kick of the tail and realise the fish is clear. The fishing gods have intervened in my favour.
I play her with more aggression now, keeping the rod high and bringing her into the margins as quickly as I can. This fish is not going to weed me again. The closer she gets, the bigger and stronger she feels. She's fighting harder now she's closer in, but I feel I'm in control. She surfaces and tries a last lunge, but I keep her moving in the right direction and Ali does the honours. She's in!
There's palpable relief from both of us. I can't look but Ali can't wait to. Then he says the magic words: "She's a twenty alright mate!" The scales confirm it. At 24lb 2oz it's a personal best by a country mile.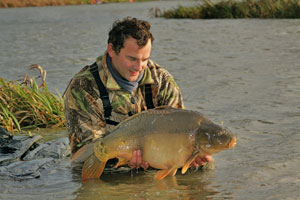 "I've just caught a twenty, I've just caught a twenty, la la la la,
la la la la."
After a handshake and a few night-time pictures, it's my job to don my Hardy chest waders and get her sacked up in some deep water so that we can grab some shots at daybreak.
It's midnight when we finally settle back in and now the storm is really upon us. The following day I find out that it's the same storm that produces a tornado in West London which badly damages over 40 homes. Only I'm in a tent!
The adrenaline is still pumping, though, and it's hard to sleep. Would that be the night's only alarm?
It turns out not. Another couple of hours pass and I can't work out if I'm not sleeping because I'm buzzing from my success or because of the ridiculous buffeting I'm getting from the storm of the century.
It's now 4am, still I'm not asleep and the weather's really showing its teeth. Up until now my bivvy has handled all that's been thrown at it. But it can take no more.
A student of science could probably make a project out of what happens next. No doubt a formula could be worked out between the gradual seepage of rain into the ground and the strength of the gust of wind that tears one, then two, three, four, five and six pegs from the ground in a catastrophic domino collapse of all things Armadillo.
If I thought I'd panicked before you should see me now. Jumping around in the darkness trying to push pegs into the ground, covering myself with mud and getting nowhere.
It's no good, I have to run for it before the camera gets totally soaked and all pictures are lost. Thank the Lord that the car is only 20 paces away. It still takes three trips to get all my gear into the car – the bedchair and remnants of the bivvy I leave behind – and by that time my sleeping bag is as drenched as I am.
As I lie in the same wet sleeping bag in the mud-caked back of my steamed-up estate car a little later, drying my camera lenses by courtesy light, I muse that this is payback time for the fishing gods that had freed the carp earlier.
I've achieved my goal without in truth any great personal skill and mainly thanks to Ali's expertise. It's time to pay the ferryman, and this is his price. And you know what? I think it's worth it!
PVA Or Bait Boats
Gareth's guide Ali has been experimenting this year as to whether a bait boat, which can deposit your rig and a pile of bait accurately at virtually any range, offers any advantage over fishing with PVA bags of bait attached to your rig.
"My fishing this season has been all about creating a nice, big spread of bait, sometimes up to the size of a tennis court," says Ali. "I present two hook baits within this big area, making them stand out on the bottom either with the use of Funnel Web PVA systems or, alternatively, a concentrated amount of bait delivered from the Viper MkIII bait boat.
"The results have been pretty even, but where bait boats have been an advantage is in circumstances where there are few fish already in the swim and I don't want to scare any of them with heavy baiting over a big area."

---