By Christopher Tasker
After a year's preparation and planning my partner and I finally set off on a trip of a lifetime.
Our first stop was Nepal where we trekked to Everest base camp which I can assure you had its fair share of drama but as this is a fishing article I won't touch too much on that.
The first fishing destination in India was the Cauvery River in Coorg to target the legendary humpback Mahseer in Coorg. This is the only place left on the Cauvery that permits to fish can still be purchased due to the recent government bans preventing any fishing in the best stretches of the national parks.
Your rods to catch these huge fish have to be spot on and after a lot of research and due to the fact I had to carry my entire luggage on my back I decided on the Travel Trek range by Fox. These 4 piece rods are fantastic and would recommend them to anyone interested in purchasing a decent travel rod.
I went for the Sailfish XT for the heavier work and bait fishing and the Bonefish Trek Spin for lighter work and lure fishing and they didn't disappoint.
The reels to match these rods were the Shimano Saragossa 10000 loaded with 40lb Berkeley Big Game mono and a spare spool loaded with 80lb Power Pro braid for greater casting distance. For the lighter work I purchased the new Stradic 5000 and loaded it with 30lb braid for greater abrasion resistance against snags and I knew the Bonefish rod could handle it.
All hooks I purchased were strong Owner 5/0 to 8/0 and all split rings and trebles upgraded on all of my various lures. The Mahseer fish will make a fool out of you if you give them a chance and destroy split rings and hooks if there not up to the task so always upgrade to x4 strength.
After purchasing my licence from Coorg wildlife society I could not have been more excited for the next day ahead and after a few cold beers and a traditional Indian meal it was time to get to bed and dream of what the first days fishing could bring.
The first sight of the Cauvery River is a special one and after an early wake-up I was soon fishing. The plan was to sit it out on the Ragi, which is a flour-based paste, in the mornings and evenings as this method usually sorts out the bigger fish and as the sun started to get up to start casting some lures about.
My guide did stress to me how slow the river had been fishing with not many catches in the last month and that seemed the way it was going to go for me as even though the odd Mahseer were showing they just wasn't reacting to any of my methods.
On the second day I tried to get my hands on a coracle to cover more water and get to the far banks where I had seen Mahseer actively feeding but there wasn't one available and I was stuck to fishing a few pools and sitting it out on the Ragi. The last days fishing had come too soon and I was still waiting to catch my first Mahseer fish. The realisation began to kick in and I knew my chances were getting slimmer.
I had done everything I could to prepare for this trip but if the fish just weren't feeding and it was hard to take; but that's fishing and what keeps luring us back. It was approaching the last hour and I began to chuck a few lures at a couple of fish that had been rising which were just out of casting distance and as I loaded up for one last cast and put in all my force I felt the line snag behind me where my partner had been sitting and my heart sank.
I turned around to see my girlfriend with her hands on her head in serious pain saying "get this f*****g fish out of my head". I was over in a flash with my Leatherman and proceeded with the horrible task of removing a lure from your girlfriends head which I can assure you is something I would advise you never to do yourself but luckily I got the lure out without any hospital treatment and thankfully she was fine.
The trip back to lodge was a silent one as you can imagine and my trip to fish the Cauvery River had come to an end with the only thing caught was my girlfriend Nadine. It really wasn't the way I had planned things to go but I did know I would be back to chase the Mahseer again in this majestic river.
We had now moved on to Australia where we had a 12-month work visa and began to look for work so the fishing was off for a little while. After a few failed jobs one of which was planting pine trees in the Blue Mountains which I can declare to you is one of the most gruelling jobs work wise, finally we settled in a mining town called Newman in Western Australia and took on 8 months' worth of work at a car rental business.
The only problem here was that it was the dry outback with not a sniff of water anywhere and the coast was an approx. 6 hour drive north or an 8 hour drive west to hit the lovely beaches of Coral Bay and great fishing around Exmouth.
Luckily we did get to these places often and it was here I started to pick up some amazing fish. The first of which was a Queen fish about a metre long caught on a live hardy head in a beautiful little bay called Honeymoon Cove in point Samson.
Even though I did pick up the odd fish on lures in this area, I found that if you could catch some live bait you were almost guaranteed to catch and after purchasing a cast net and weeks of practicing the art on a local playing field, I began to catch more fish.

It was now the time to get serious and get out on one of the amazing charters boats out of Exmouth and after a bit of research I decided to go out with a charter company called On Strike. These guys did not disappoint and soon I was hooked up to some huge Golden Trevally. Now these fish are off the scale in terms of how hard they fight and this was my first taste of a huge fish with unbelievable strength.
We could have carried on catching this huge Golden Trevally but it was Sailfish season and with the lure of my first Billfish calling I soon on the moved to track down some of these speed machines. The method was to follow the birds to find the bait balls which the sails where creating, speed up fast then dropping live bait in quickly before the sails went down.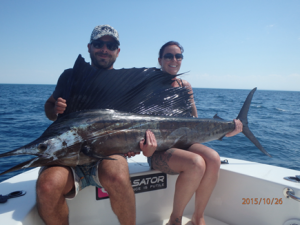 This was my first time using circle hooks which are perfect for free lining live baits and after seeing the line slowly pulling off my reel I wound up slowly and connected to my first Billfish. To see one of these fish rip off at 100mph jumping all the way is an experience I will never forget and after losing the first fish after a 30-minute battle I was soon hooked up again and finally I landed my first Sailfish and was ecstatic.
The next stop after Australia was Gillham's fishery in Thailand which I've wanted to fish for some time now to get chance to fish for some of the real freshwater monsters which lurk in this beautifully designed lake and resort.
The first days fishing was slow as it was mega hot even by Thailand standards so I decided to have a bash up in the water on a large float and began firing boilies at it, which was a good move as I was soon hooked up to a decent sized Pacu but unfortunately it bit me off right at the net as these fish have some serious teeth on them.
The light started to fade and the peg opposite was free so I decide to fish a good size chunk of meat on the far margin and after an hour it was away. The fish took off to the right and I was sure the drag was set too tight so I loosened it a couple of notches.
This turned out to be a massive mistake and in a flash the fish took off down the lake and buried itself in the near hyacinth. The guides were quick into the water to try and free the fish but in the commotion the fish got free. This was my first big lesson at Gillham's and one I wasn't going to make twice.
The first day and a half worth of fishing had passed without any fish caught and feeling disappointed by my mistake I decided on a change of swim and a fresh start the following day.
I was up early the next day and moved onto my new swim e3 which was further up the bungalows towards the grassy swims at the far end and it wasn't long before the middle rod ripped off and I was into a huge Mekong Catfish.
You really have little control when it comes to these Mekong's and if you do hook a big one be prepared for a fight that can last well over an hour long as they have unbelievable staying power and never give up. Finally after an epic fight my first fish of the trip was landed weighing 160lb. Please note there was a guy fishing the night before who hooked a Mekong FISH at 7.00 pm and lost it at 1.30am after over a 6 hour battle (!!!) so you have been warned.

The next day followed with another two more Mekong Catfish but I really wanted to get stuck into a few of the huge Siamese carp these are what the lake is renowned for. Even though not many Siamese where getting caught they did seem to be showing really close in the mornings and evenings so I began to target them 2 rod lengths out.
The Siamese Carp are filter feeders so I decided to fish the method feeder with a tiny chopped down pop up as bait as even though they are large fish they are not targeting the hook bait itself but just homing in on the small particles of ground bait or pellet your feeding so a big bait will result in less bites.
Just before lunch I got my first bite on the method feeder as soon after landed my first Siamese Carp of the trip that weighed about 50lb and was made up that my new tactics were working. This had to be one of the best looking Siamese Carp in the lake with beautiful red markings on its fins.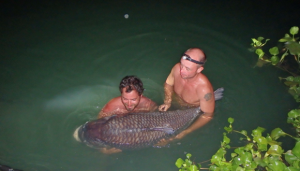 Soon the night started to draw in and after my Siamese earlier in the day I decided to put both rods on that same spot and at 7.55 and just 5 minutes before the days fishing was over the second rod I put out screamed off. Now this fish felt a lot bigger and had the guide thinking it was probably another Mekong but for me the fight was a lot different than that of the Mekong and I was sure I was into one of big Siamese carp. After about 30 minutes the fish was tiring and my legs were shaking but then I got the first glimpse of it and after a few more nerve wrecking runs it was landed and I was overjoyed.
I knew the fish was over 100lb but was in shock that after close inspection it was a fish that had been caught a few weeks before and weighed in at 150lb and the same fish that held the current Siamese Carp record at 134lb a few years earlier. Let's just say I had a good few beers to celebrate!
That night I found that the swim Sala 1 was available and decided that after catching the huge Siamese it was time for a change and target the other fish I had been dreaming about for years; the mighty Arapaima. I was up early again excited for the next day and what an emotional roller-coaster it was. I had seen a few Arapaima rolling right in the corner of the swim closest to the club house and after an hour my float slipped away and my fish head bait was engulfed.
The fight from the Arapaima is like no other as it's a close quarter battle of will and strength, with the Arapaima usually coming out on top and this was the case, even though I thought I was just getting the better of it until it managed to find a bit of slack line and was off.
After my shortcomings I got the rods back out and a few hours later I was on again and this time I was taking no prisoners. The fish felt huge but I knew I had to play it really hard or it would find slack and be off again. The fish was under the far hyacinth most of the fight which meant keeping the rod tip under the water and playing the fish through one arm. My arm started to burn from its constant quick runs and head shakes but I finally started to gain on it when it made another large run and came off!
I was in disbelief as I had played this fish really well and I must admit it nearly reduced me to tears as I reeled in to check my rig I found the hook had snapped. Now these are strong hooks and the guides told me it's the first hook of this pattern that they had seen snap so I was extremely unlucky.
The sun started to set and I only had one more days fishing left so catching my dream Arapaima was becoming unlikely as even though the fish had been in my swim that day they could easily be gone tomorrow so the last hour of fishing that day was becoming my last chance.
Yet again at 7.55pm with 5 minutes to go I had few little indications on my float rod and as I was unable to see the float I decided to strike into it and another Arapaima was on and it wasn't long before my arm was burning and my legs were shaking. This really was the fight of my life and never had such an intense battle with a fish but finally I got the fish close and after a few more 'heart in the mouth' moments the guides did an excellent job of landing my first Arapaima weighing 240lb! After the two losses earlier in the day it made this fish even more special and I have never been so happy.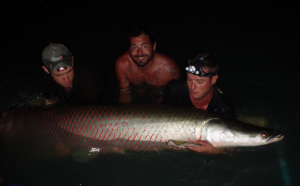 We were unable to calm the fish for some photos as it was a seriously angry fish but did I manage one picture before we had to let it go as it was growling like a prehistoric dinosaur!!! That night was a special one with a few too many gin and tonics after an emotional past two days I decided to get up a bit later the next day and relax a little.
I did manage to get out a bit later the following morning and the pressure was off but I still managed to catch 3 beautiful Red Tail Catfish up to 60lb which was a really great way to finish the trip.
A word of warning; do not go to Gillham's fishery thinking the fish will jump in the net. These big fish are clever but if you put in the hard work and listen to the guides you will defiantly catch a few fish of a lifetime.
My trip was nearing an end but not before returning to India to take on my old adversary the legendary Mahseer Fish. This occasion I set out to catch the Golden Mahseer of the Himalayas and after two days' travel from Delhi and some of the scariest roads I have travelled we finally arrived at the Sarayu/Kali confluence in Pancheswar.
The whole of north India had been experiencing large forest fires in the previous months due to the extreme drought and it was touch whether or not my fishing permits would be issued. Fortunately the pre-monsoon rains had started and with the fires extinguished my permits were granted.
The river was running really high for the first few days which made fishing extremely difficult as the Sarayu river water, which is normally a clear, Spring-fed river, was a chocolate colour and the rain was flushing all the branches and debris from the recent fires with it.
I was limited to using bait fishing for the first five days of the trip at certain times of the day when the current was at its lowest as snow fed Kali water level can fluctuate dramatically during any given day.
Pancheswar is a very spiritual place and once or twice a day; families would come from miles to send the burnt bodies of their recently deceased loved ones down the river to be at peace.
My guide had been telling me stories of how the Golden Mahseer will feed on these bodies and even though they have no teeth there strong mouths can tear flesh from them. He even told me a story of a local man catching a large Mahseer on a dead man's finger!
With this new knowledge I decided the best bait to use was the chicken's intestines that were being killed daily to feed the camp and with this new bait I finally caught my first Golden Mahseer weighing 18lb. I managed to catch a fish per day for the next few days on this method and even lost a couple on the lure when the water was running clear enough to do so, but it was on the 7th day that things started to get really interesting.
I started to become annoyed with an old bit of chicken gut for bait, as the river had dropped slightly and with the water running slightly clearer a few big fish were showing themselves so I decided new bait was in order. My guide began the horrible task of feeding the chicken gut on to the hook and tiring it with a bit of cotton and it was ready to be cast back in.
The bait had only just settled before the rod screamed off. It really did take me by surprise and I quickly tightened my drag as I needed to stop this fish quick from reaching the rapids into the next pool which would have certainly been 'game over'.
Luckily the fish turned and I gained a little line, but this fish had some serious weight and used it wisely. There was still the odd log coming through from upstream and if one of these had caught my braid it would have ended my dream, but I managed to steer the fish into the calmer current and landed it safely.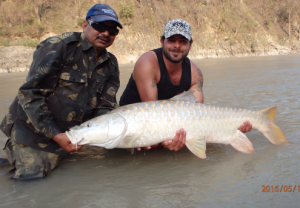 On landing the hook fell out very easily and at that point I knew how lucky I had been to land this fish. My guide's first reaction that it was the biggest Mahseer he had ever seen in 25 years of guiding on the Rāmgangā and far bigger than his personal best of 42lb.
Unfortunately I could not weigh the fish as I made the mistake of only carrying scales up to 40lb. But with a fork length of 127cm and a girth of 66cm it was a truly massive specimen of the Golden Mahseer and one of the biggest caught in recent years. Using an accurate Mahseer weights formula this fish weighed 50.7lb.
After the awe inspiring catch I decided that was it for that day and went back to the camp to celebrate and bask in my glory of what I had just achieved. With two days left to go, the fishing was far from over. I was amazed to see the Sarayu River running clear the following morning and with my head well and truly banging once again I trekked down to the river armed only with my lure rod.
Even though the river was clearer I still felt like the only lure to be visible to the Mahseer was the Rapala Fire Tiger but unfortunately I only had this colour in small 4″ shad and even though I'd have gone for a bigger size I decided this lure to be the best for the conditions and over the next couple of days managed to catch numerous Mahseer between 4lb and 10lb.
The last afternoon's fishing had come and I once again proceeded to fish the confluence on my trusty 4″ shad and it wasn't long before it was smashed and my drag screamed. My light Bonefish trek travel rod was bent double but still had enough power to stop the fish from running into the fast flowing Kali where the fish would have most likely have vanished.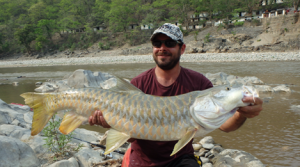 After a tense battle lasting over 30 minutes the fish finally tired and I managed to lure the fish into the shallow sand to land it safely. The fish weighed just over 28lb and was a real achievement on light tackle and was the big fish on the lure I was after.
For those of you that aren't familiar with the Mahseer fish, this fish could well be on the brink of extinction with the Mahseer's spawning grounds cut shorter and shorter each year due to the numerous dams being built and from the constant threat of illegal poaching.
I do believe that the Mahseer's only hope of survival is by protecting these fish through catch and release angling and tagging programs, but the Indian government doesn't see it this way and by banning angling on numerous rivers the fish are becoming far less protected and are under increasing pressure from poaching.
There is hope for protecting this wonderful fish with charities like the Mahseer Trust doing some excellent work in protecting and promoting awareness of these beautiful fish and with a bit of luck we may see their numbers increase to normal levels so please become a member and support there great work at www.mahseertrust.org .
It has been an unbelievable year and after my slow start I manage to finish the year with some unbelievable catches including two fish bigger than current IGFA world records.
Got and angling story to tell? Send in your articles to editor@total-fishing.com for consideration