The Paul Roggeman European Open Beach Championship had another fantastic turnout for 2017, with just under 1000 anglers competing and 150 weighing in over the weekend, despite tough fishing conditions.
Congratulations to Graham Elliott from Hull, winning the Overall Seniors category with his 4,325g ray. Graham walked away with a massive £6,000.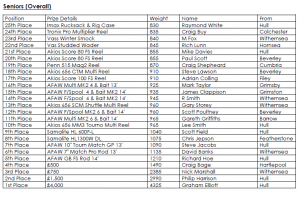 Plans are all already underway for next year's event, 9 – 11 February 2018, keep an eye on the EY Events website and Facebook page for details on how the 25th year of the event will be the biggest and best it's ever been!
Web: www.eyevents.co.uk
Facebook: www.facebook.com/openbeachchamps
Twitter: www.twitter.com/eyorksevents