World Feeder Fishing Championships 2017
River Raia, Portugal
Report By Gareth Purnell
It was tough going for Preston Innovations Team England at the 2017 World Feeder Fishing Championships in Portugal, but the team did have a silver lining as Mick Vials finished second in the individual stakes at the River Raia.
England finished a disappointing eighth overall, behind Ireland, despite putting lots of time, effort, money and energy into pre-practice and practice. Although the most disappointed of all will have been the home nation who could only manage 13th of the 22 teams on a tough water where wild carp were vital, but hard to come by.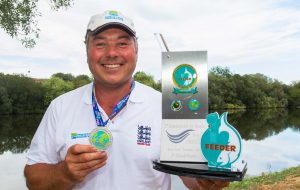 Gold medal winners Italy had the challenging venue sorted though, winning be a clear margin. Having said that, a 65 point total is as big a gold medal winning score as we can recall here at Total-Fishing.com, and testament to how difficult a venue it proved to me. Romania just grabbed second on weight from bronze medal winners Serbia.
Said Mick: "We spend months every year preparing for the World Championships and this year was no exception. Tommy Pickering had previously fished the venue on feeder-only competitions and had relayed important guidelines for us regarding the fish population. It was to be carp, barbel and odd carassio and bleak, and that it was between 40 and 70m wide with depths up to three metres. Oh and he relayed that it was going to be tough, simple as that!"
"We visited the venue twice before the official 'worlds' practice week, firstly in April when the fishing was good, then we travelled out as a squad and practiced for four days to practice for bleak and work out basics such as if groundbait would be important or if particles in hemp, corn and the local speciality wheat would be the right feed. We quickly realised on this second visit that it was going to be harder to catch fish than April had led us to believe, as even with just us six anglers on the whole match length, four net fish was a good day."
England had a nightmare first day, with Steve Ringer and Rob Wootton scoring 18 points apiece (22 being the worst possible score) and Adam Wakelin 13. But Mick Vials was second in section and Phil Ringer won his section to give the team a 52 point total.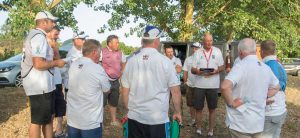 With a brilliant result now needed to get in the medals on day two, Tommy Pickering instructed his team to attack on day 2 and go for carp, forgetting the bleak altogether. It proved good for some – Mick won his section and Steve was eighth in his. But Dean Barlow finished last in his section. However, his was such a touch section that if he had banked a carp, England would have been in the medals.
Said Tommy Pickering: "We were under no illusions that this was going to be a tough World Champs, and when you see that 79 points was enough to win a medal, you can see how tough it was. Eighth looks bad, but it was closer than that."
Teams:
1 Italy 65pts
2 Romania 79pts (36.173kg)
3 Serbia 79pts (31.105pts)
4 Germany 80pts
5 Belarus 81pts
6 Netherlands 83pts
7 Ireland 84.5pts
8 England 89pts
9 South Africa 98pts
10 Spain 109.5pts
11 Belgium 115pts
12 Ukraine 117.5pts
13 Portugal 118pts (23.484kg)
14 Hungary 118pts (18.118kg)
15 Moldova 136pts
16 Sweden 142pts
17 France 144pts
18 Czech Republic 144pts
19 Bulgaria 148pts
20 Lithuania 143pts
21 Russia 167.5pts
22 Austria 178pts
Inidividuals
1 Marius Bodea, Romania;
2 Mick Vials, England;
3 Radu Prisacarlu, Romania
Pics courtesy of Preston Innovations
FULL PICTURE REPORT
https://www.prestoninnovations.com/en/articles/silver-for-vials