TWO intrepid Brits are back in Blighty after a dream fishing trip of a lifetime produced Amazon Rainforest fish way over the current world record – although neither will be able to claim a world best. 
Guildford angler Laurence Hanger landed a monster freshwater wolf fish that banged the scales around to 54lb from previously un-fished waters in the Amerindian territory of Guyana in South America.
That is no less than TWENTY ONE POUNDS bigger than the current IGFA all tackle world record for the species, also known as Giant Trahira. However, he won't be able to make a claim because pre-historic looking brute was weighed on a boat before being returned.
Meanwhile Kent's Chris Turner caught a giant black piranha that weighed over 11lb – again much bigger than the IGFA world record or 8lb 7oz. However, being a newbie to the South American fishing experience he thought they were commonplace and threw it back without even taking a picture!
The exploratory trip with Amazon-Angler.com products many catfish as well, but the number of huge wolf fish even amazed guide Steve Townson.
"This has to be the wolf fish capital of the world," enthused Steve, who has been fishing in South America over 100 times. "We had loads over 30lb, plenty over 40lb and two over 50!
"We only fished this river because our original target was flooded due to heavy rains. The water was high here too and the local Wai Wia Indians said the fishing would have been better still, with even bigger wolf fish, if the levels had been lower. If you want to catch a world record in 2017, this is the place to do it."
More information at www.amazon-angler.com , email info@amazon-angler.com .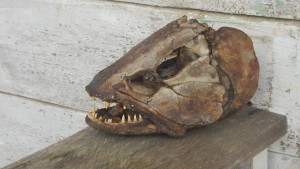 The Freshwater Wolf Fish
Freshwater wolf fish, also known as Aimara, Trahira or Traiarao (Hoplias lacerdae) are big, ugly, darkly prehistoric, terrifying gamefish of the Amazon basin. They are dirty fighters with a temperament of a Rottweiler. They will not let go once hooked and continue to leap and jump, fighting to the very end. Even when finally brought to the boga grip or net, they will twist like a crocodile in a death roll! They mostly live in the slack water water and eddies of fast rivers in the highland streams and rivers of Brazil, Suriname, Guyana and Venezuela, although they do patrol the edges of the river in search of prey. Due to the fact that the Traiarao's body tissues and swim bladders are rich in blood vessels, they can also breathe air to help boost their oxygen supply in dingy, oxygen-poor water. They lay in wait for any un-expecting baitfish to swim by and explode on them with a ferocity which is hard to believe. They can attain a bullish weight of 50lbs although an average size caught is 15-20lbs on lures and cutbait. The current IGFA world record is 32lb 15oz, caught in in 2007 from French Guiana.
GUYANA JAGUAR EXPLORER TRIP