Garbolino Lindholme Lakes, South Yorkshire
In-form Jon Arthur got off to the perfect start for his 2009 UK Individual Championship campaign with a convincing Round One win. Fished on Bonsai Lake at Garbolino Lindholme the former UK Champ put 134lb 3oz on the scales from Peg 64. His catch consisted of 10 small carp on the Method feeder early on with the rest caught on the short pole and down the edge with meat.
Second place went to Marc Jones (Worms UK) with 105lb 9oz of carp and F1s caught on the pole shallow from Peg 27. That was just enough to relegate Andy Findlay (Preston Innovations/Korum) to third place with a feeder-tempted 101lb 1oz from Peg 52.
The competition is sadly undersubscribed this year but new organiser Nigel Harrhy has still done a sterling effort to keep this prestigious event running at such short notice. The next round is at Maver Larford Lakes in two weeks time.
Result
1st Jon Arthur (Shakespeare Superteam) 134-3-0 (Peg 64)
2nd Marc Jones (Worms UK) 105-9-0 (Peg 27)
3rd Andy Findlay (Preston Innovations/Korum) 101-1-0 (Peg 52)
4th Tom Pickering (Preston Innovations) 100-10-0 (Peg 37)
5th Adam Richards (Browning/Barnsley Blacks) 98-4-0 (Peg 70)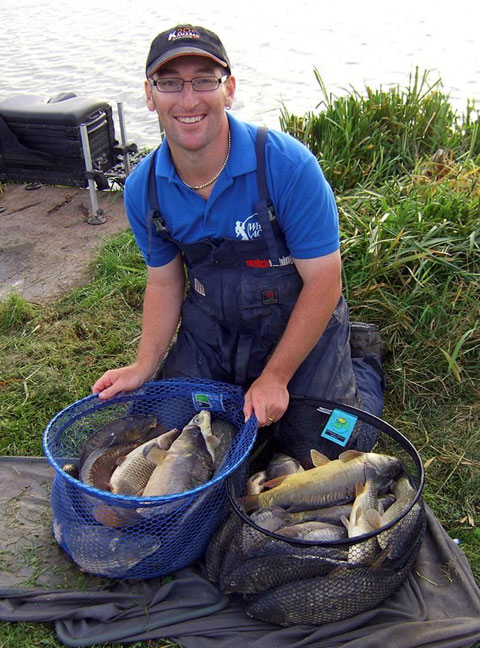 Jon Arthur (Shakespeare Superteam)
Click on www.total-fishingclub.com – the UK's No1 online match fishing club – to win a trip to the world match fishing championships, and save money off tackle