Ultima's expansion into European markets continue with the appointment of a new distributor in Spain.
A deal has been agreed with Blackfish run by Gordon Ronald and Roger Bennett, a new distributor for major brands in Spain, to distribute Ultima products throughout the Spanish region. Blackfish is a rapidly expanding and well respected company, and Gordon was extremely pleased with the deal "We are delighted to be able to offer Ultima products to give anglers in Spain more choice. Once all anglers become aware of the outstanding quality of Ultima products, I know it will become a huge success here."
Ultima are providing considerable additional support with catalogues, advertising and dealer promotions specific to Spain.
Roger went on to add: "Ultima's current line range covers carp and specimen, general coarse, predator and sea fishing. All are high quality, top-end and innovative products. In short, when you buy a spool of Ultima line you know you are buying the best from the acknowledged experts in their field."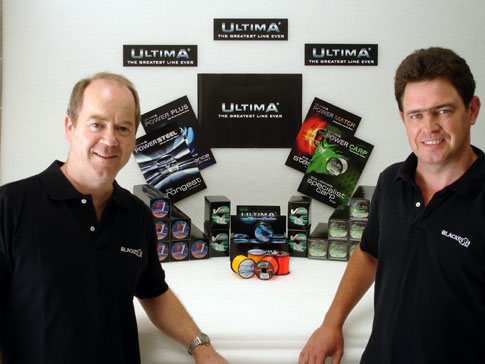 To see the full range of Ultima products available, visit the Blackfish website at www.blackfish.es. Alternatively, Blackfish can be contacted in the following ways:
Tel: 900 842100
Fax: 972 982685
Email: info@blackfish.es