I've been lucky enough to visit Ultima facility at Ramsgate and there is no other company that puts fishing lines (both their own and their competitors') through such rigorous laboratory testing.
They are well aware what the best-selling lines out there are, and they do what they can to more than match them. Remember that Ultima is the only UK company specialising in line for anglers.
I suppose the ideal rig and hooklength line for today's angler knots superbly, offers perfect presentation, yet retains very high strength for its diameter.
Power Silk is a sumptuous new product that combines all of these qualities with the added benefit of being fluorocarbon coated, making it in theory less visible to the fish as well.
It's silky soft and supple, and knots quite beautifully. This is no fluke. Ultima experimented with 'softening baths' – that's what the line is soaked in after extrusion. Its experts found that by doubling the normal bathing time and altering the medium the line was bathed in, they achieved a fantastically soft and supple line.
In fact is so soft to the touch I was sceptical how it would handle real bagging work for big weights of carp, but I have yet to have any issues with it at all.
Further softening is achieved with the coating of fluorocarbon, and by effectively waterproofing the line, this coating also increases knot strength by preventing the line from absorbing water when submerged (this absorbing of water can reduce standard mono knot strength by 15% quite quickly).
Yet it's still extremely strong and just as importantly can take plenty of knocks.
The 0.17mm (5.5lb) and 0.19mm (6.5lb) strengths are seriously robust for a line like this and great for carp pole rig work, but I'm also told by anglers who feeder fish in Ireland a lot and have to haul hard-fighting hybrids over rocks that it's a quite excellent feeder hooklength that stands up to this test too.
As Ultima's new fluorocarbon-coated line, Power Silk supersedes the extremely popular XT7 brand.
I would not knock XT7 because I think it's a quite excellent hooklength line especially when the going it tough.
But Power Silk is more of an all rounder, although at £4.25 for a 50m spool it's not cheap.
Price: £.425 for 50m
Tackle Shops: www.total-fishing.com/tackleshop.aspx
geepster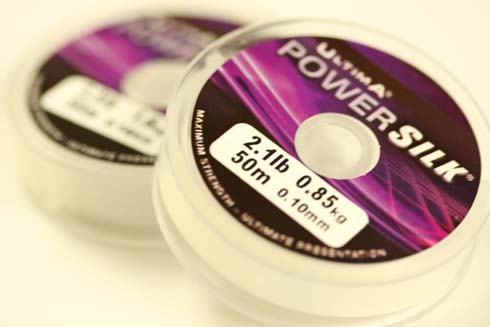 Power Silk is a super soft and supple line that's ideal for hooklengths of pole rigs, plus it's fluorocarbon coated which increases knot strength and makes it (in theory) less visible to the fish.
Product Fact File
Quantity: 50m spools and 100m spools
Diameters: 0.07mm (14oz), 0.08mm (1.2lb), 0.09mm (1.5lb), 0.10mm (2.1lb), 0.12mm (2.5lb), 0.14mm (3.5lb), 0.15mm (4.4lb), 0.17mm (5.5lb), 0.19mm (6.5lb), 0.21mm (8lb), 0.26mm (10lb)
Price: Expect to pay about £4.25 for a 50m spool and about £6.25 for a 10mm spool
Buy: /tackleshop.aspx
More information: www.ultimauk.com/power-silk.htm