Professional angler Andy May booked his place in the 2008 PartyPoker.com Fish 'O' Mania final by winning the latest qualifier at Woodlands View in Droitwich, this bank holiday weekend.
Once again the conditions were anything but perfect on the day with high winds and the threat of heavy rain hanging over the fishery. Despite the grey clouds, there will always be sunlight shining on one lucky angler and it was no different at Woodlands as Andy May battled the gusty winds to win what was a close run match.
Winner Andy fished on Front Deans and drew peg 33 which was located in the back corner of the lake with the wind blowing away from the peg. Andy's initial thoughts were of apprehension as the local anglers suggested that the peg hadn't been fishing well in recent weeks. However, he stuck to his game plan and fished worm and caster 4 metres in front of him and 14.5 metres to his left. The confidence in his methods paid off as he finished with 92lbs 4ozs, which was made up of 40lbs of silver fish and 52lbs of carp, the biggest being 8lbs in weight.
Commenting after the match Andy stated, "I didn't think I'd done enough to win it, but I'm glad I did because the final is on my home water and hopefully I'll do well. I have been fishing at Browning [Cudmore] for 15 years; however this will be my first time in the final so anything can happen on the day".
Throughout the match nobody stood out as a clear leader and it wasn't until the final weigh in that the winner was established. The eventual winner could have come from any of up to ten anglers; however Andy's closest rival was Bryan Travis who finished with 84lbs 6ozs. Bryan had drawn Back Deans and peg 39, fishing corn at 5m catching bream and carp with his biggest fish weighing in at 12lbs.
In third place was Colin Wood who was also fishing Back Deans and fished from peg number 49, ending the match with 82lbs 6ozs. Steve Martin finished fourth with 78lbs 14ozs and last week's runner up Steve Ringer had another near miss ending in fifth place with 73lbs 6ozs.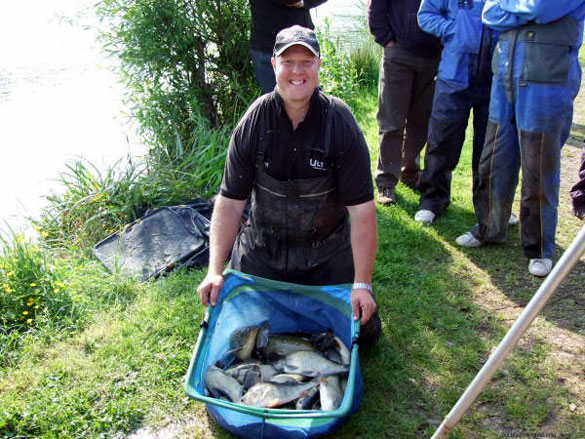 Ultima's Andy May