Some decades ago, adventurers didn't have the extended technology, we have today. They had a lot on their list to pack. The modern adventurous man has a lot cut out for him, especially on things he needs to pack. The only technology they would pack was a flashlight, compass, map, and perhaps a watch. When it comes to watches, the technological advancements have played a significant role in ensuring that all of the most important features have been included in the package.
The watch market is now flooded with durable, sleek, and functional watches you'd require in the outdoors. This makes it a challenge when finding the best watch to suit your taste and needs. In this piece, we will be shedding more light on the best fishing watches. The blog NanaDC suggests that, you might want to think about it over and over again before  investing in rugged smartwatches.
Listed below are a few things you might want to consider before buying a smartwatch.
1. Type
One of the most important factors to consider when buying a watch is the type. In this respect, there are three commonly used types of watches used by fishing enthusiasts. Some of these include the following.
Solar powered watches

– most fishermen prefer this type of outdoor watches because of the fact that they don't need to carry additional batteries. This is especially true for fishermen who need to go for multi-day expeditions.

Battery powered watches

– most outdoor watches come with either a rechargeable battery or a removable one.

Touch screen fishing watches

– the modern day type of outdoor watch has a screen displaying most of everything. In addition to this, they have handy control knobs and useful functionality that you'll enjoy trying. The best thing about touch screen fishing watches is that they've been enabled for call functions. This means you can both receive and make calls.
2. Features
The other most important thing to consider when buying a fishing watch is the features. Information and the data that your outdoor watch provides may be life saving as well as entertaining. First and foremost, consider the basic functions of a watch. This should include a stopwatch, time, and a calendar. Additional features should include GPS tracking system, tide graphs and other additional features necessary for your fishing expeditions.
3. Weight
The effects of a weighty watch may have some effects on your fishing experience. This brings in the idea of considering a watch that also fits and provides you with the comfort needed.
4. Water resistance
It goes without saying that this should actually be the first thing you consider before investing in a fishing watch. Most of them are water resistant, but until a certain point. You, therefore, want to check with the manufacturer on the level of water resistance the watch provides.
Now that we've got that covered, let's take a look at some of the best waterproof, rugged smartwatches you never thought you'd need for fishing.
Garmin Quatix 5 Smartwatch
Garmin has had quite a series of successful watches. But it was after the release of Garmin Quatix 3 that the manufacturer saw the need to invent Garmin Quatix 5 Smartwatch as the next generation of fishing. Apart from an inbuilt GPS tracking system, the watch boasts of additional features that include boating, sailing, and fishing to mention but a few.
Features
NMEA 2000 Boat data systems paired with Garmin electronic features for depth, speed, wind data, and temperature

Fishing Timer

Catch log

Anchor alarm

Anchor rode calculator
SUUNTO Traverse Alpha Stealth
This is a product from Suunto Manufacturing Companies who have a line of other know watches. They produce top of chart watches that are stylish and durable. SUUNTO Traverse Alpha Stealth watch can be used as a fishing watch, but can also double as a general outdoor watch. In addition to this, this watch has a sleek, sporty look loaded with other handy features for hunting and hiking to mention but a few.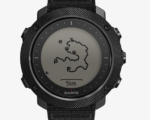 Features
Hunting and fishing modes

Alerts

Both fishing and hunting POI

Moon Phases

Barometric fishing trends

Diary for recording routes

100 meters waterproof
SunRoad FR830
This is also another type of one of the best fishing smart fishing watches you may want to try out in 2019. It includes an altimeter, trend charts, and moon phase charts that include 400 major cities. In addition to this, this watch has a sporty look making it an ideal watch for other outdoor activities.
Features
Tide data

Moon age

Barometer trend chart

5 ATM waterproof

Digital compass

A reminder of battery  life
Tic Watch Pro
This is another product from a Chinese manufacturing company known as Mobvoi. This watch has a cool, sleek design among many other features. It comes with a lasting battery using a dual-layered technology to give you for thirty days on Essential Mode.
Features
Health and fitness tracking

GPS enabled

Compatible with iPhone and Android
Casio Pro Trek WSD-F20 Smart Outdoor Watch
Pro Trek WSD-F20 is a second generation smartwatch from Casio. It is now being managed by the Pro Trek Brand and has an inbuilt GPS tracker. You don't need to connect it to your smartphone for locations as it has better offline colored maps.
Features
TFT color display

Altimeter and barometer compass sensors

Microphone

Vibration alerts
Polar M600
Polar M600 is manufactured by Polar, a company with a long experience of watch manufacturing since 1980. This watch features a simple flat touchscreen with a metallic sides. It's a great watch for the outdoors, but can also work as your handy sports gadget.
Features
Accelerometer

Gyroscope

Ambient light sensor

Microphone

GPS tracking

Heart rate sensor
With that, we come to the conclusion of this handy guide on selecting the best rugged smartwatches. Being a new breed of gadgets, they are increasing in popularity, especially given the fact they have functional features that are great for the outdoors. If you are therefore deciding on what to wear during your fishing expeditions, feel free to pick one from the above list.