Steve Ringer bounced back from a rare tactical blunder to notch up his third White Acres festival victory in the past two years.
Shimano-backed Steve, from Northampton, overcame a day two hiccup which saw him finish an uncharacteristic fifth in his nine-peg section by winning it every other day.
It gave him a perfect 36 point score once he'd dropped that rogue result – one point too many for a star-studded clutch of chasers headed by Andy May and Will Raison.
That trio took the lion's share of prizes; a combined £3500 of pools, prize money and bait vouchers the victor's spoils, with Andy banking £1750 and Will £1150.
"I'm very pleased because I wouldn't have thought it possible to win from the pegs I drew on the last two days," said Steve.
"I admit that I moaned for England about my last day's draw, peg 7 on Gwinear. I'd drawn it the previous week and really struggled, but I still fished it in the belief that fish can swim.
"My brother Phil had won the same section from a nearby peg on Monday. The wind had swung round a bit since then, and 20 minutes before the all-in I noticed fish topping between peg 10 and peg 9. So I went in with a deck rig at 14.5 metres as far towards the vacant peg 8 as I could get.
"It was slow going really until the last hour. The last 20 minutes were probably when I won the festival as I had five, all good 'uns, to the chap on peg 9's one and came past him to take the section with 80lb 3oz."
Steve's week got off to a flyer with a section winning 12-2-0 of pinkie and worm-tempted skimmers – more than half of his catch again coming in the final hour – on an unusually calm Porth Reservoir. However, day two was a different matter.
"I was on Bolingey peg 9 and went with meat instead of pellet, ending up with 46lb and section fifth. I'd never have won the section from the peg but could have made second," he admitted.
"Next day at Pollawyn 15 I still hadn't quite learned my lesson, and started on a meat feeder. I love fishing meat but it was the kiss of death. I only had one carp in the first hour.
"I'd also rigged up bomb and pellet waggler, but until Rob Brennan next door started catching by dropping his bomb over the waggler line there was nothing really doing. I'd only taken a pint of pellets – I was dinking them in one at a time – but after following suit I ended up with 23 fish for 112lb 4oz."
Strength as well as guile and watercraft played a part in Steve's day four result which kept his festival hopes very much alive at peg 8 on Trelawny Pool.
"Trelawny tends to be an end peg lake so I didn't really fancy it. But the peg was slightly narrower than I remembered it being so I shipped the pole out to 16 metres to test the wind. It wasn't too bad, so I put 17.5m on and a long line swinging rig.
"I caught 145lb set 12 inches deep, even shallower later. It was a case of trying to hold as tight a line as possible. I couldn't backshot as you have to keep swinging out constantly. My arms and back hurt like hell after that day but I'd have missed too many bites on pellet wag and the bomb would have been too slow."
Steve also reckoned his decision to feed and hair-rig 6mm pellets on the final two days was decisive. "The fish were definitely backing off 8mms by this stage after 10 days of solid festival angling," he revealed.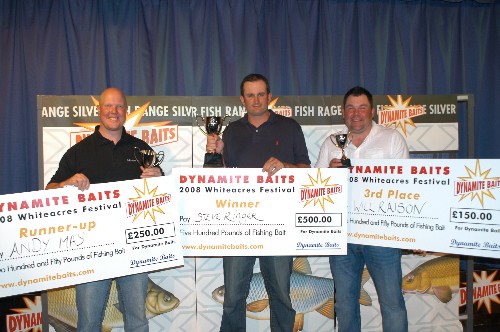 Three top commercial anglers – from left to right Andy May, Steve Ringer and Will Raison.
In the week that a largely unchanged set of Drennan team England squads were announced, Steve Ringer fielded the inevitable question about whether he harbours any international ambitions with tact and honesty.
"I'm happy doing what I do, and so are my sponsors Shimano who have Alan (Scotthorne) at the peak of the international scene and me doing the UK commercial scene.
"I'd never say never. Representing your country is obviously something to be very proud of. But to do it I'd first have to take a couple of years out to fish that way and hope to succeed.
"The UK angling public can't really relate to World Champs style which is a shame in a way considering the level of attention Alan and Co deserve and would get if they were in Europe, but that's just the way it is. My immediate priorities this season are Fish'O'Mania and the UK Champs."
Dynamite Baits White Acres festival runner-up Andy May admitted to feeling "a bit disappointed" at coming so close to his first Cornish festival win, but added; "You can't really feel too bad about finishing second of 180 anglers including so many top names.
Ultima-backed Andy, from Cheshire, won his section three times and was second twice. He topped the leaderboard on Wednesday and Thursday evening, and even a last day section win at Porth wasn't enough.
"It's been a great week's fishing and I was surprised with my results at Bolingey and Gwinear as I've drawn both those pegs before and done badly. I also thought I'd get battered at Pollawyn but came second that day.
Andy clocked the festival's biggest total weight, including 50 carp for 163-12-0 at Bolingey on day one 121-0-0 at Gwinear on day four and 80lb-plus bags on the other carp waters.
"I fished the festival very single-minded in terms of methods. Pellet wag for Bolingey and Twin Oaks, and with take no prisoners gear on the bridge peg at Gwinear. I started on 0.20 line and red hydro there, knowing they run straight under the bridge and smash you up, but still lost my first four. After that I tightened the elastic right up and went 0.28 with a Drennan Carp Feeder hook, and never lost another fish."
Having won the previous week's Van den Eynde festival, there was Tiger Woods-like talk of Will Raison achieving straight wins in all three White Acres spring festivals until the final day.
Although his margin of defeat was closer than the golf ace's US Masters disappointment last month, Daiwa-backed Will had no complaints about the week's competition.
"I've won back-to-back here with the All-Winners and the Preston festival before. I had a first then a second back-to-back last year, and now first and third. It'll come," smiled Will after a final day's victory with 19-0-0 from a rock-hard Porth which gave only five other double-figure weights all week.
• A spot-check by the Environment Agency on Monday morning produced a 100 per cent clean bill of health, with all 180 competitors having a current valid rod licence.
Top Ten
Steve Ringer (Shimano) 36 points (Dropped section 5th) 396-13-0
Andy May (Ultima) 35 (Dropped section 2nd) 466-12-0
Will Raison (Daiwa) 35 (Dropped section 3rd) 421-13-0
Richie Hull (Garbolino) 35 (Dropped section 3rd) 403-16-0
Alan Scotthorne (Shimano) 35 (Dropped section 7th) 383-14-0
Kieron Rich (Daiwa) 35 (Dropped section 7th) 355-6-0
Joe Carass (Garbolino Ossett) 34 (Dropped section 2nd) 447-1-0
Simon Gould (Dynamite Baits) 33 (Dropped section 5th) 339-1-0
Adam Wakelin (Dynamite Baits) 33 (Dropped section 7th) 411-4-0
Pemb Wrighting (Milo Bordon) 32 (Dropped section 6th) 408-15-0
Biggest fish
19lb 4oz to Chris Whitworth, who also had an 18lb-plus common on the same day at Bolingey.
Lake Winners
Day 1
Porth Vic Molyneux (Darfield) 12-6-0, peg 39
Bolingey Andy Geldart (Leeds) 177-12-0, peg 20
Pollawyn Matt Pillay (Grimsby) 134-5-0, peg 17
Trelawny/Twin Oaks Kieron Rich (Daiwa) 141-14-0, peg 10
Gwinear Paul Taylor (Surrey) 77-2-0, peg 24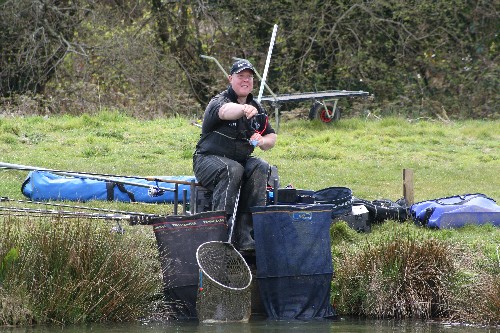 Andy May in pellet waggler action – he used the new Ultima Power Steel line all week and loved it.
Day 2
Porth Lee Prophet (Dudley) 12-1-0, peg 86
Bolingey Dean Barlow (Kamasan) 159-2-0, peg 20
Pollawyn Steve Nicholson (Surrey) 141-2-0, peg 20
Trelawny/Twin Oaks Rob Wootton (Middy/Dynamite Baits) 182-5-0, peg 10
Gwinear Chris Downs (Lichfield) 94-8-0, peg 31
Day 3
Porth Colin Mercer (Fishing4fun.co.uk) 9-11-0, peg 89
Bolingey Andy Powers (Thatchers) 214-3-0, peg 20
Pollawyn Chris Whitehead (Devon) 144-14-0, peg 27
Trelawny/Twin Oaks Andy Geldart 153-8-0, peg 12
Gwinear Dan Ashington (Kamasan Starlets) 96-11-0, peg 20
Day 4
Porth Nigel Marchington (Kidderminster) 9-1-0, peg 39
Bolingey Pemb Wrighting 193-1-0, peg 27
Pollawyn Scott Wilding (Manchester) 125-1-0, peg 28
Trelawny/Twin Oaks Kerry Kirkwood (Manchester) 205-6-0, peg 14
Gwinear Alan Scotthorne 141-3-0, peg 24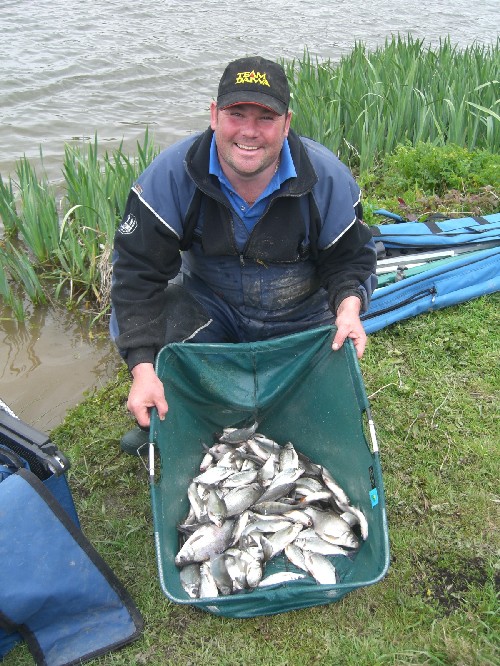 Will Raison – another section win on Porth.
Day 5
Porth Will Raison 19-0-0, peg 84
Bolingey Adam Wakelin (Dynamite Baits) 196-0-0, peg 20
Pollawyn Richie Hull 154-14-0, peg 22
Trelawny/Twin Oaks Nigel Smith (Cheshire) 162-3-0, peg 2
Gwinear Joe Carass 174-4-0, peg 28