Total-Fishing.com is delighted to teamed up with Match Angler for a special offer allowing you to buy three World Match Fishing Championship DVDs for only £15.99 – for over 330 minutes of exclusive video insight into the biggest international match fishing events of the year.
World Coarse Fishing Championships 2011 
Split into 16 chapters, this DVD with a running time of nearly two and a half hours tracks the progress of the major and minor teams in world match fishing on the fabulous Ostellato Canal in Italy.
After failing to win on home soil in 2008, the home nation simply had to take gold here, but they were up against some seriously stiff competition from the likes of England, Holland, Belgium and Holland all fancied.
This DVD tracks the practice days and the two-day competition itself, with some great insights into what it takes to compete and win at this level and interviews with the likes of Mark Downes, Steve Gardener, Jacopo Falsini, Will Raison, Jan Van Schendel and Guido Nullens.
The DVD concludes with a fascinating retrospective of the event and how England fared with Steve Gardener.
World Feeder Champs 2011
The cameras follow the action in the first World Feeder Fishing Championships, which was fished on the River Perugia in central Italy. England's all-star line-up included Steve Ringer, with Tommy Pickering in the managerial chair.
The team went off AS favourites, but some highly controversial tactics used by one of the teams led to a shock result and official complaints of rule breaking.
This 94-minute DVD picks up the action from the day of the last training session and covers the two competition days. As well as the results, the various rigs and tactics used by the competing teams are covered in depth including how they interpreted the rules and regulations for this new event, with interviews and reactions with top anglers and managers.
World Coarse Fishing Championships 2010
Follow how England stormed to gold medal glory in on the River Guadiana in south west Spain. This was one of the most technical and closely-fought World Championships on record, with single fish deciding the medals.
The cameras follows the final two days of practice and the two-day event, with in-depth interviews from England co-manager Mark Addy, Holland's Jan Van Schendel, former world champion Walter Tamar and some of England's top anglers including Des Shipp. And of course that gold medal celebration from the England boys!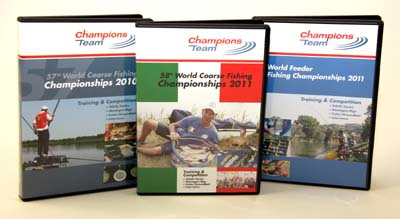 Note the price of £15.99 does not include P&P.