Martin Salter enjoyed an unforgettable fishing trip of a lifetime to Argentina in search of the power-packed golden dorado. 
Fishing with Amazon-Angler.com at La Zona and Salto Grande, close to the border with Uruguay, the five-strong group accounted for 144 dorado, including four over 30lb, three over 40lb and two beasts over the 50lb barrier.
The biggest fish of the trip, a 56-pounder to Mark Edwards, would have been a new world record for the species had it been taken to dry land to be weighed.
However, the anglers are always keen to get these fish back as quickly as possible. Martin said that although the sport was in his words 'awesome', with an average of 5.4 fish every day, it was by no means easy. And with the river coming up five metres after a storm, the plan to catch fish on surface lures and on the fly went out the window, with most coming to deep diving lures.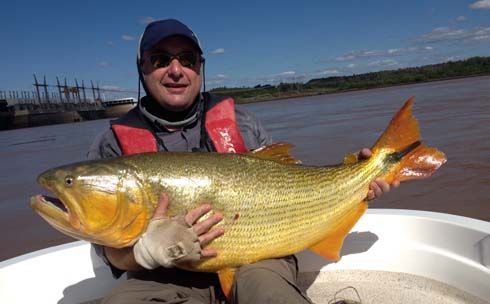 This 56lb golden dorado would have beaten the IGFA all tackle world record has Mark Edwards taken it to shore and had it officially weighed. 
The current IGFA world record golden dorado is a fish of 55lb 11oz caught in 2006 in the Uruguay River in Argentina in the same area where Martin and his group were fishing.
Holiday firm Amazon-Angler.com specialises in giving anglers the chance to enjoy the incredible lure fishing of resorts like La Zona and many Amazon destinations, including the chance to catch the mighty arapaima, usually under the guidance of the leading angling guide in the region, Steve Townson. More information at www.amazon-angler.com .