The first of what it's hoped will become an annual event in Wales, the Willis Worms Winter Festival, was held over two days, alternating between the Carp Lake and the Match Lake at Ian Heaps' Holgan Farm Premier Fishery in Pembrokeshire.
Sponsored by Denzil Thorpe of Willis Worms to the tune of an added £500 to the prize money, this was always going to be a keenly contested match.
To make the match unique it was a rule that only worm and caster would be allowed. Groundbait could be used but with the usual pellet and corn banned..
The two-day match was decided on overall weight and not the usual points system to give everyone a chance to bounce back after a possible bad draw on the first day.
Twenty three anglers travelled to Holgan Farm from all four corners of the Job Centre to try their luck. The field was halved with one half fishing the Carp Lake and the other half fishing the Match Lake. Weatherwise, conditions were comfortable with bright sunshine and above average temperatures for the time of year.
On the Match Lake on the first day Rob Jones (PI Thatchers) drew the much fancied peg 25, always a holding peg for fish with the feature of the lily pads and Rob soon connected with them only to lose carp in the submerged lily roots.
One renegade fish took him through the snag and connected with Luke Sorokin's rig on the peg opposite! The sigh e of 32 metres of pole connected by a giant tangle was a joy to behold for all but the two of them, as expected Rob soon controlled the situation and set off on his winning ways, returning a weight of 41lb 7oz.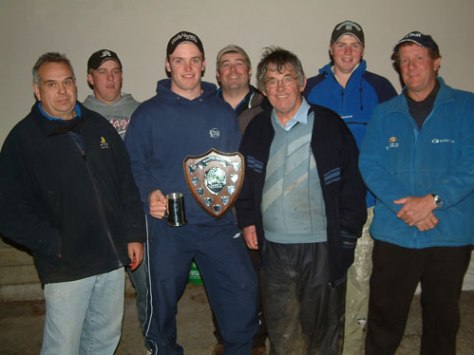 Left to Right: Denzil Thorpe, Neil Morgan, Luke Sorokin, Rob Jones, Ian Heaps, Mike Williams, Neil Daniels
One peg to his left Neil Morgan (Holgan Farm) was catching regularly to land a total of 37lb 14oz. Current Fish O Mania champion and Holgan farm regular Clive Wright (Willis Worms) drew what has become the bogey peg of unlucky 13. An angler of Clive's calibre is always a threat off any peg but even his skill couldn't coax fish from a bad draw and he only weighed in 19lb 6oz.
Up on the Carp Lake Mike Williams (Holgan Farm) on peg 15 fishing a pole at 14 metres was determined not to let Rob Jones run away with it and caught regularly to weigh in 48lb. Ian Heaps on peg 23 was the meat in the sandwich between Pete Edwards (Willis Worms) and Andrew Crocker (Pizza Hut) on either side.
Fishing his favourite waggler method in 6ft of water he soon showed the youngsters how it should be done weighing in 35lb to take second place with a net of mainly F1s.
Both Pete and Crock were overheard on their mobiles booking appointments with a chiropractor for treatment for their stiff necks… it must have been the change of weather that brought it on. Gadger's Match sponsor Andy Phyllis weighed in a creditable 32lb 11oz off peg 12 to fill the third place spot.
Day Two started with no less than ten anglers still very much in contention, so it was still anyone's match.
Rob Jones drew peg 29 on the Carp Lake which had only produced 7lb 4oz the day before. Rob can never be written off so all eyes were on him to see what he could salvage from what looked like a bad draw.
Mike Williams, however, had drawn peg 27 on the Match Lake, a peg with good form from the day before when Neil Morgan weighed 37lb 14oz. Luke Sorokin on peg 15 had the Carp Lake bowl virtually to himself and with a previous weight from Saturday of 30lb 1oz under his belt must have felt quietly confident that if there was any justice he would be the one to take the winner's purse.
Never to be ignored Neil Daniels (Holgan Farm) soon made his presence felt on peg 21 on the Carp Lake. Neil is a legend in his own lunchtime on the "up in the water" waggler method and again the method was producing results.
Luke Sorokin was having none of it and was catching regularly on the 14m pole line. Up on peg 29 Rob Jones was having a slow start with no fish in the first hour.
Rob is never a man to let 'the lack of fish in front of him prevent him catching' and eventually started to conjure up fish from a swim that was hitherto fishless. He even caught a double figure carp while taking a restroom break. The wet patch on his trousers was evident as he ran back to his peg when his float buried.
Rob's late burst wasn't enough to prevent Luke Sorokin winning the lake with an excellent weight of 79lb 7oz. Neil Daniels was pipped by 2oz to Rob Jones's 57lb 6oz.
Down on the Match Lake things were a lot closer with Ian Heaps on peg 23 catching regularly while Mike Williams was as usual amassing a fair weight off peg 27. Kevin Roberts, who had a disastrous day previously on the Carp Lake and failed to catch was having a field day off peg 17 and catching regularly.
With all the fish in the high numbered pegs as the day before it was a foregone conclusion where the winner would come from. Ian Heaps was the eventual winner, and despite assigning his number four section to the deeps he weighed in 48lb. Kevin Roberts was second with 39lb 10oz to exorcise his demons from the day previous while Mike Williams finished up with 35lb 2oz. Andrew Crocker wearing a neck brace finished in fourth place with 33lb 12oz.
There are good and bad pegs in any competition and this was no exception but for those fortunate to be on fish the weights were excellent for the time of year considering the handicap of being limited on your choice of baits. Sincere thanks to Denzil Thorpe of Willis Worms for his generous sponsorship.
Overall Results
1st Luke Sorokin, 109lb 8oz
2nd Rob Jones 98lb 13oz
3rd Mike Williams 83lb 2oz
4th Ian Heaps 83lb 0oz
5th Neil Daniels 79lb 10oz
6th Neil Morgan 72lb 14oz
Carp Lake – Sat
1st Mike Williams peg 19 48lb 0oz
2nd Ian Heaps peg 23 35lb 0oz
3rd Andy Phyliis peg 12 32lb 11oz
Match Lake – Sat
1st Rob Jones peg 25 41lb 7oz
2nd Neil Morgan peg 27 37lb 14oz
3rd Mark Goodall peg 19 30lb 8oz
Carp Lake – Sun
1st Luke Sorokin peg 15 79lb 7oz
2nd Rob Jones peg 29 57lb 6oz
3rd Neil Daniels peg 21 57lb 4oz
Match Lake – Sun
1st Ian Heaps peg 23 48lb 0oz
2nd Kevin Roberts peg 17 39lb 10oz
3rd Mike Williams peg 27 35lb 2oz