The Environment Agency has teamed up with TV Channel, www.OnlineFishing.tv to bring anglers a fascinating insight into where your licence money is spent – and it's free to view.
The 30-minute 'Your Licence, Your Money' show featuring voice over from Geoffrey Palmer (of 'Butterflies' fame) takes anglers to the fisheries laboratory at Brampton, and to the Calverton fish farm to show you some of the scientific work going into keeping our fish stocks healthy.
Learn about why EA fisheries officers regard the tiny Topmouth Gudgeon, which can breed four times a year in the UK, is among the most serious alien threats to UK fisheries. Indeed the EA is keen for information from anglers about this species and has teamed up with OnlineFishing.tv to glean information on its whereabouts (see www.onlinefishing.tv/survey ).
The programme heads out and about to various rivers across the country with dedicated Environment Agency teams, looking at barbel refuges, flood refuge projects and electro-fishing operations to see how fishery stock levels are monitored and maintained. Next spend a day in the life of EA enforcement officers. Find out how important their job is and the lengths they go to, to keep people from doing things they shouldn't be! There's some amazing stake-out footage of a husband and wife poaching team that's not to be missed!
Taken individually, each of these operations is important and fascinating in its own right. But they are also pieces of a jigsaw and it's by placing each of them together that you get the full picture of the work going on to benefit our waterways and what needs to be done to keep them healthy and full of fish.
OnlineFishing.tv's Head of Channel, Gareth Purnell, said: "There were record rod licence sales last year and like most anglers we were curious about what happens to all that money. Rather than speculate, we decided to find out for ourselves.
"Having travelled the length and breadth of the country, it was a revelation to discover that not only do the vast majority of people working for the fisheries department actually fish themselves, but also their commitment to the angling cause is nothing short of hugely impressive.
"The nature of the beast means that the EA, with its wide and varied commitments combined with the pressure from politicians, is always going to come in for some criticism. However, as far as angling is concerned, we are sure viewers will be left with the clear impression that if there was no rod licence revenue, the fisheries department would be virtually non-existent and that the state of UK fishing would be a pale shadow of what it is today."
The programme is available free to view only on the Internet based TV Channel OnlineFishing.tv by going directly to the link below: http://www.onlinefishing.tv/channel/feature/your-licence-your-money/low/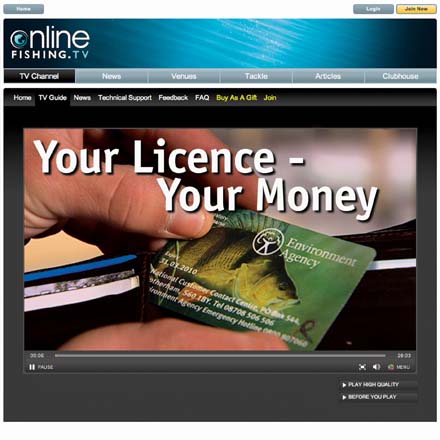 The new show about where anglers' licence money is spent from OnlineFishing.tv is free to view.