Adventure Angler Steve Townson is returning to one of the scenes from his 'Fishing Expedition – Amazonia' TV series deep in the Amazon in February 2014 and you have the chance to join him.
He has reserved the week 10th-17th to re-live his great adventure that made the show such a success all around the world.
There are presently six spaces left for any adrenalin-seeking fishing junkies who would like to join Steve on this beautiful, hidden gem of a river, in the heart of Indian territory and the mysterious Amazon Rainforest.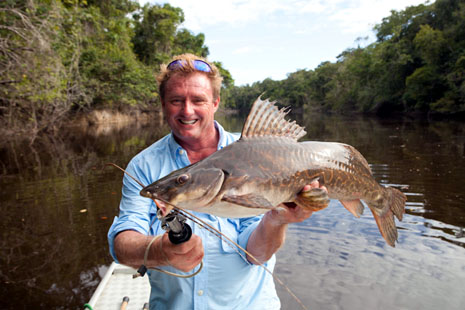 The 'Lure Grandslam' has feisty Peacock Bass to 16lbs, enormous Traiarao/Wolf Fish to over 30lbs, Payara/Vampire Fish to 38lbs, Pike-like Bicuda to 14lbs, Pescada/Silver Drum to 12lbs and the ever-present Giant Black Piranha that grow to over 9lbs! Topwater explosive strikes from Peacock Bass and Wolf Fish will make your heart stop and the fight with all these bruisers is like nothing ever experienced.
The 'Cutbait/Catfish Grandslam' consists of big Redtails to 120lbs, Jau to over 100lbs, Surubim (Tiger) to 40lbs, Jandia (Leopard) to over 25lbs and the mighty Piraiba, the largest freshwater Cat in the world that can grow to over 400lbs.


Piranha, Wolf Fish and Payara can also be caught on cutbait. Surubim Cats are often caught on deep diving lures and minnowbaits.

AND this is the 'coarse angler's' wet dream of a trip. So many species of scaled and 'skin' fish can be caught on nuts, fruits and berries, sweetcorn and an array of small baits like snails and fish strips. An angler can literally bag up in no time!

So come and live the experience with Steve on a week in the Amazon Jungle. Any inquiries please send to steve@amazon-angler.com or call 01832 275 995 or Skype amazonangler