ON TEST: ACCESSORY BOXES

The tcf team has been trawling through the tackle catalogues to see what's on offer to help keep all those small tackle items tidy and easy to find.
tcf Buyer's Guide
You probably don't need them, and will never use them, but have a good look around and you're sure to find that you have masses of small tackle items just lying about in sheds and garages cluttering up the place.
It may be the case that you will actually use it all one day, but until then it's just left lying around to collect dust until needed. And then what happens? You can't find it.
The solution to the problem is to store the gear away in one of the many accessory boxes you can find in your local tackle shop, on the Internet or even in your local hardware store. In an effort to help you decide on the right box for you, the tcf team has sourced a selection of these boxes and had a good nose inside each one to see what's on offer.
When looking for a box the first thing you need to be clear about is what are you going to store in it and how much. That means size is a key factor – not just of the box but of the items you plan to store for safe keeping.
If you're intending to carry all the gear you currently use then you might want a cantilever type with loads of compartments or, better still, a set of boxes in a carry case.
These days many accessory boxes come with small containers included for hooks, very small tackle items, line and rig boards, so the choice is wide.
Some of the tackle you might carry, like floats, could be a little delicate so you will need to ensure that the box is made of a robust material that won't crack or fall apart if it's accidentally dropped or stepped on. You will also want the catches on the box to be secure, so that they don't fall open during transit or as you take it out of your luggage.
Think it's an easy decision? You might what to think again. Let's see if the tcf team can shed some light on your options.
tcf The Test
Having seen what's on offer from the vast number of tackle catalogues that appear on a regular basis in the tcf office, the team asked as many companies as possible to send a selection of their accessory boxes so that we could take a closer look at what you get for your money.
Most of our requests were granted with boxes big and small appearing from all quarters, far too many for us to cover them all, but a wide enough selection for the team to get its teeth into. From this we chose a cross-section of different types relating to the pleasure, match and specialist angler, including the lure fisherman.
To be honest, price is not the big issue as most boxes are easily affordable. The most important factor is the space and whether it can hold the myriad items the tcf guys have raided from their own tackle.
WHAT TO LOOK FOR IN AN ACCESSORY BOX
1 Is it big enough to hold your tackle?
2 Does it have removable dividers?
3 Does it fit in your seatbox or luggage?
4 Are the catches secure enough?
5 Is it strong enough?
---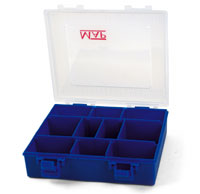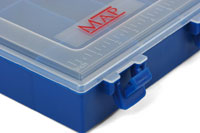 MAP
MEDIUM ACCESSORY BOX
RRP: £6.99
Type: Flip top
Compartments: Up to 10
Adjustable: Easy to remove partitions
Weight:
Extras: None
---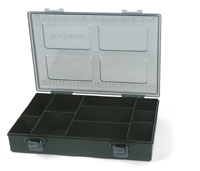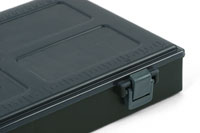 WYCHWOOD
LARGE TACKLE BOX
RRP: £9.99
Type: Flip top
Compartments: Up to 10
Adjustable: Easy to remove partitions
Weight:
Extras: None
---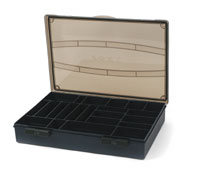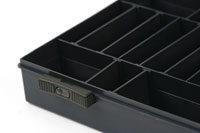 FOX MATCH
LARGE F-BOX
RRP: £9.99
Type: Flip top
Compartments: Up to 22
Adjustable: Easy to remove partitions
Weight:
Extras: Slide locking device
---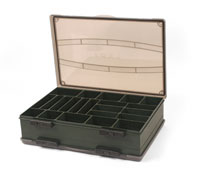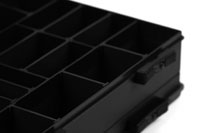 FOX
DOUBLE LARGE F-BOX
RRP: £21.99
Type: Flip top
Compartments: Up to 38
Adjustable: Easy to remove partitions
Weight:
Extras: Slide locking device
---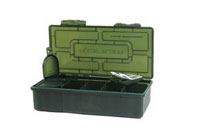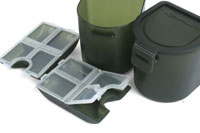 KORUM
TACKLE MANAGER
RRP: £19.99
Type: Flip top
Compartments: Up to 12
Adjustable: Easy to remove partitions
Weight:
Extras: Supplied with two four-compartment, small-accessory boxes and two spool cases
---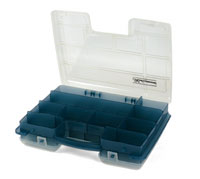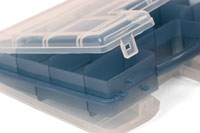 SHAKESPEARE
UTILITY BOX
RRP: £5
Type: Flip top
Compartments: Up to 32
Adjustable: Some removable partitions
Weight:
Extras: None
---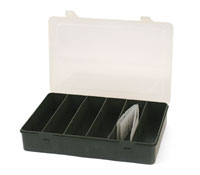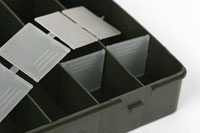 CORMORAN
LARGE LURE BOX
RRP: £5.24
Type: Flip top
Compartments: Up to 18
Adjustable: Easy to remove partitions
Weight:
Extras: None
---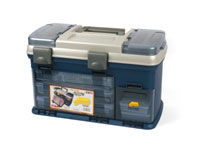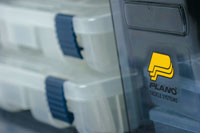 SHIMANO
PLANO 7271
RRP: £54.99
Type: Flip top
Compartments: Up to 11
Adjustable: Easy to remove partitions
Weight:
Extras: Two compartments that hold five small flip top boxes
---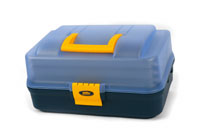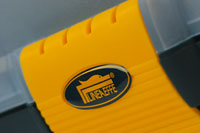 LINEAEFFE
THREE TIER TACKLE BOX
RRP: £19.95
Type: Cantilever
Compartments: Up to 20
Adjustable: Some removable partitions
Weight:
Extras:
---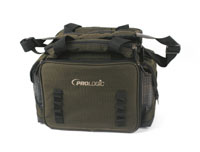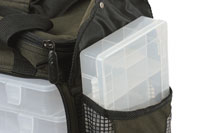 SVENDSEN
PROLOGIC BOX SYSTEM
RRP: £24.99
Type: Set of small tackle boxes
Compartments: Up to 112
Adjustable: Some removable partitions
Weight:
Extras: Supplied in a carry bag that has an additional accessory compartment with Velcro dividers
---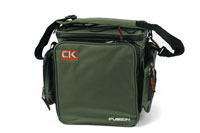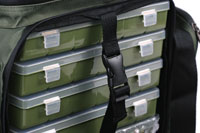 DRAGONCARPDIRECT.COM
CARP KENETICS STACK BAG
RRP: £29.99
Type: Set of small tackle boxes
Compartments: Up to 252
Adjustable: Easy to remove partitions
Weight:
Extras: Supplied in a carry bag that has additional storage pockets

---