2010 Shakespeare Championship (70 pegs)
This match saw the river dropping after a three feet rise two days earlier but it was still very coloured and most of the competitors felt it would be a match dominated by big fish.
It was no surprise then when Gary Miller took the title and the £6,000 top prize from downstream Peg 67 with 22-4-0 of bream.
Using an open-end feeder with groundbait, casters and chopped worms and a worm on the hook Gary landed fish to 5lb and set a new weight record into the bargain.
Second place fell to Simon Willsmore, a regular framer at venue, who this time improved on his third place last year by finishing runner up this time with 13-0-0 of chub with blockend feeder and maggots from Peg 36.
Third was Rob Wootton at fancied Peg 1 with 12-0-0 of bream and following him home was Steve Ashmore who took the first of his brace of festival double figure barbel with an 11lb fish from Peg 7.
Completing the main frame with the best pole caught weight of the day was Pole Fishing editor Jon Arthur with 11-1-0 of mostly skimmers from Peg 64.
2010 Shakespeare Championship Results

Gary Miller (Maver Bait Tech) 22-4-0 (Peg 67) £6,000
Simon Willsmore (Team Milo) 13-0-0 (Peg 36) £2,000
Rob Wootton (Middy/ Dynamite Baits) 12-0-0 (Peg 1) £1,000
Steve Ashmore (WB Clarke) 11-6-0 (Peg 7) £800
Jon Arthur (Pole Fishing/ Shakespeare) 11-1-0 (Peg 64) £500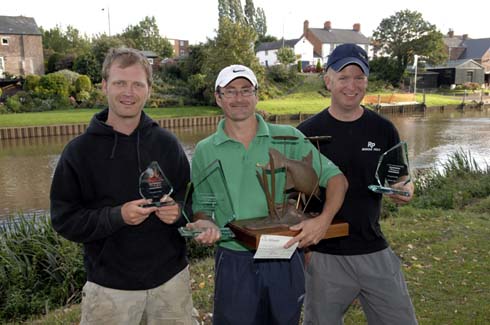 From left to right, the top three in the 2010 Shakespeare Championships on the Warwickshire Avon – Rob Wootton, winner Gary Miller and Simon Willsmore.
£150 section winners
Mark Treasure 7-4-0 (Peg 6)
Tony Bench 6-14-0 (Peg 17)
Matt Godfrey 8-2-0 (Peg 22)
Sam Wildsmith 9-0-0 (Peg 40)
Darren Davies (Drennan) 5-3-8 (Peg 52)
Mark Pollard (Fox Match) 9-15-0 (Peg 63)
Ian Didcote (Garbolino) 9-5-8 (Peg 72)