News from the British Record (rod-caught) Fish Committee meeting The British Record (rod-caught) Fish Committee met at Fishmongers' Hall, London, on 29th November 2016.
Present were: Nick Simmonds (Secretary), Oliver Crimmen (Scientific Advisor, Natural History Museum), Nigel Hewlett (Scientific Advisor, Environment Agency), Andrew Nellist (Freshwater specialist) Chris Clark (Sea fish specialist) and Paul Coulson (Freshwater specialist).
The following claim was ratified by the committee as a new record:
Adam Slack – Small-eyed ray (Raja microocellata) – Shore-caught – Mothercombe, South Devon, on 22nd April 2016.
Adam's fish was ratified at a weight of 15lb 11oz 04dr, adding nearly 11oz to Mr Wood's previous record from South Wales, which had stood for 25 years.
—————————————————————————
The committee considered a claim for the carp record received from Tom Doherty in respect of his capture of the fish known as "Big Rig" from The Avenue fishery and claimed at a weight of 69lb 3oz.
After lengthy discussion and careful consideration of this claim, the committee concluded that on the basis of the evidence available to the committee, this fish is a cultivated fish which has been grown on under an artificial feeding regime to a weight close to or exceeding the existing species record, prior to stocking into the water from which it was caught. The BRFC does not accept claims for cultivated fish and therefore rejected this claim.
Tom's carp will be recorded in the "Top 50" coarse fish listings, which record the 50 largest specimens of the most popular coarse fish species reported in the angling media, and published on the BRFC web pages.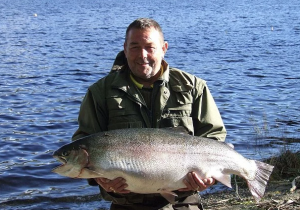 The committee also considered a claim for the rainbow trout record from Michael Mitchell, in respect of his fish from Loch Earn, claimed at a weight of 34lb 12oz. Based on evidence provided by an independent scientific laboratory, including scale analysis to determine age and growth-rate, and an analysis of the stomach contents of the fish, the committee concluded that this trout is effectively a cultivated fish. The record claim was therefore rejected.
Michael's capture will be recorded on the BRFC Notable Fish List.
———————————————————————————
The committee also considered a claim from James Fellows to have his exceptional blue shark recognised on the Notable Fish List. James's fish was measured at 100 inches in length and with a girth of 45 inches. The committee ratified this claim. Using the recognised formula for calculating weight from length and girth measurements, the estimated weight of James's shark is 253lb.