These nine-inch long ready tied rigs are a boon for any big fish angler.
Available in barbed or barbless versions, they feature the strong, sharp and reliable Korum S5 hooks, which have gained quite a following among big fish anglers, especially the 10 and 12 sizes. The hooked are attached using a knotless knot and incorporate quite a long hair.
They are tied using a soft, 20lb, sinking braided hooklength material, with a dark swivel at the top and the swivel knot protected with rig sleeving to help reduce tangles and visibility.
Ideal for use with boilies and imitation baits and strong enough to cope readily with specimen carp, tench and barbel.
Sizes
Barbless Hooks Sizes: 6, 8,10 & 12
Barbed Hooks Sizes: 4, 6, 8,10 & 12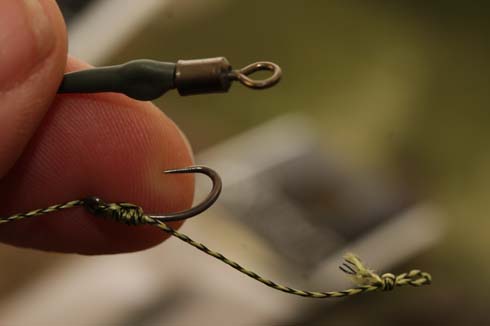 Korum's braided hooklengths feature the firm's popular S5 hooks and are tied using a sinking braid. They feature a longish hair.
---