The carp were in feeding mode in the sell-out Boddington Classic Final as a strong north easterly wind whipped across the reservoir.
Three sections in use at in the final; A) pegs 80-90 -curve before the beach B) pegs 90-100 beach section and a new section to the final C) 101-110 boat club side. Amazingly all three sections were won with weights of over 250lbs and C section weighed over 2250lbs between its ten anglers!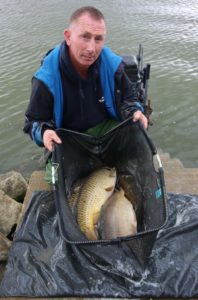 It was Merseyside angler Alan Dewhurst that dominated proceedings, even from his first chuck! Starting on a short-range Lead setup, Alan went about pinging large pellets around 25 yards. This resulted in 10 big carp in his opening hour on peg 83. Soon the carp were showing more and more up in the water and Alan switched masterfully between waggler and elasticated lead for the remaining four hours and he was estimated to have somewhere in the region of 40 carp to 15lbs for his 160kg 525grams (350lb+!!!).
Hot on Alan's heels was Hertfordshire angler Daniel Coss, on adjacent peg 81. Unlike Alan, Daniel started long hoping to pick off some big fish, but soon threw the method rod up the bank and followed Alans' tactics on the short line. A mixture of straight lead and pellet waggler was also Dan's successful tactics, pinging 11m pellets to get the mass of carp in front of him competing. Dan was closing fast in the last couple of hours but ended up just short, with 142kg 850grams.
Rounding out the top three was Matthew Threlfall who took apart B section and was nearly 50kg clear of the other anglers. Once more a mixture of pellet waggler and bomb was the successful tactics on peg 93.
The last man in the overall monies was Robert Blackburn, who was also well clear of the chasing pack and only grams behind Matt, with 123kg 152grams.
The Angling Trust would like to thank all the CRT representatives that have helped out across both the qualifiers and the matches. Further thanks must go to all the anglers that have fished and helped weigh in across the matches, as it's been a real team effort to weigh in all those carp!
The Boddington Classic will be back next year with an additional 50 peg qualifier, taking it up to 200 opportunities for anglers to reach the final! Tickets will go on sale later in the year through the booking site, so watch this space and the Facebook page for updates.
Results
1. Alan Dewhurst 160kg 525grams
2. Daniel Coss 142kg 850grams
3. Matthew Threlfall 123kg 500grams
4. Robert Blackburn 123 152grams