Channel Five is to screen a brand new series in which Chris Tarrant shares his angling travels and adventures.

The four hour-long episodes entitled simply 'Chris Tarrant Goes Fishing', include the 'Who Wants To Be A Millionaire' presenter targeting sailfish to nearly 200lb in the Maldives, huge lake trout in the Yukon, pike on the fly at Chew Valley in England and hard fighting Irish salmon.
Chris says of the series that he wants to explore areas fishing programmes never do, talking to people about how they got into fishing, whether or not they are obsessive, and how the sport affects their lives outside of fishing.
The first episode will be broadcast on Friday November 1st at 7pm.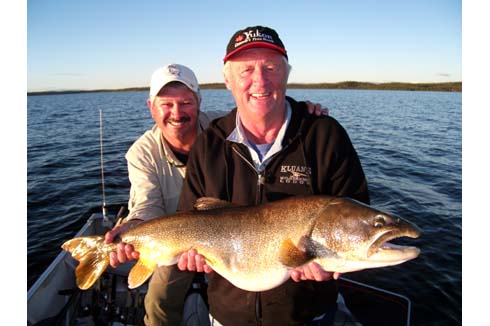 Pic. John Horsey is Chris Tarrant's sidekick in the new Channel Five series, Chris Tarrant Goes Fishing.
'Fishing with Chris Tarrant' by John Horsey
As a professional angler/pro guide I like nothing more than to explore the world's most exciting and challenging fishing environments and pit my skills against what the world's waters can offer. In a recent set of visits to such locations I accompanied my friend and TV Celebrity/Presenter (and avid angler) Chris Tarrant – in a series of four new TV episodes we tackle a variety of species/styles in all weathers… some within our comfort zone, some not. There is no doubting the deep affinity and love we have for our sport, but the series is so much more than just fishing, it provides a candid and insightful portrayal of both Chris and myself, as individuals, as explorers and as friends. We meet some extraordinary people, visit some fascinating venues and enjoy an enriching partnership that provided some wonderful memories.

Week 1 – The Maldives
Chris and I first venture to the beautiful sport fishing paradise of the Maldives. Embraced by the crystal clear turquoise waters of the Indian Ocean, the Maldives is quite simply a dream location. The picture postcard setting provides a romantic background to some big fish battles both Chris and I enjoyed. Sailfish, Wahoo and Amberjacks along with Giant Trevallies offered magnificent challenges to us both on a deep sea excursion captured in this episode.
Week 2 – Northern Ireland
In the second episode Chris and I are back to reality with a bump when we visit Northern Ireland. There is a bit of rain about, in fact there's a lot of rain about but in between the showers we fish one of the most beautiful estates in the British Isles, Baronscourt Estate. This glorious environment bathes in dreamy late summer sunshine as we seek pike and salmon. This picturesque setting provides a natural network of streams and loughs throughout the centuries old estate, all full of pike and trout. Lord Hamilton takes time out to talk to us about the problems and joys of running such a massive sporting resource and the Ghillies are full of typical Irish blarney. In many ways this was one of the most challenging assignments.
Week 3 – Yukon
In episode three Chris and I visit Kluane Lodge in the Yukon, in the extreme north of Canada. Wellesley Lake is in Chris' words "the most prolific fishery in the world … it's simply teems with fish". The setting is high summer; there is 24 hours of daylight and we fish more or less non-stop in a stunning setting with snow still on the mountains all around us on this Alaskan border. The wildlife is staggering, there are bald eagles in the skies above us and on the shoreline there's a moose. There are pike everywhere, some well over 20lbs, feeding on huge shoals of whitefish and small trout. Whitefish grow to double figures here and take a fly, while there is even a chance of catching the virtually extinct burbot. But the pike here aren't even the main predator. The Lake Char are huge. Fish over 50lbs are caught each year and they feed on anything that's foolish enough to try to swim past them, but can Chris and I hook one of these monsters and land it?
Week 4 – Chew Valley Lake
In the final episode Chris and I are at Chew Valley Lake. A famous old trout fishery in the west of England but currently also the best pike fishery in the British Isles. Careful management by Bristol Water means that both trout and pike fishermen can share the water amicably. We are joined by Mike Daunt, a professional casting instructor. Chris and Mike have both been catching pike all their lives, but neither have ever caught them on a fly, I guide them through this method and their results (at this first attempt) amazed them both.