A new lantern for the night angler that's lightweight, versatile and lasts for up to six days, the Chub SL300 is a sure-fire winner.
Powered by three 1.5V D size batteries (not included) which are very easily replaced, the light comes from three 1W Nichea White LEDs which provide bright illumination in a confined space like an angler's bivvy or shelter.
The lantern can be set for 'high' mode, which gives continuous illumination for about three days, or 'low' mode, which doubles the life. If you want it in 'flashing' mode, the light, which gives ample output power of up to 300 Lumens, should last for 10 days.
Handy features include the ability to remove the lens cover, allowing the lantern to be used as a directional beam, plus there's a built in hanger in the non-slip rubber base. There's an LED indicator above the on/off switch to help you find the lantern in the dark, and instructions of how to install the batteries are included.
The bulb is an LED and should never need replacing. 'Fully loaded', the lantern weighs in at 862gr, most of which is the batteries themselves. Excellent product.
Geepster
Chub SL300 Lantern
Dimensions: 84 x 84 x 1855mm
Power: 3 x 1.5V Size D batteries
Price: RRP is £24.99 but you can get it for a couple of pounds less
Website:  www.chubfishing.com
Tackle Shops: www.total-fishing.com/tackleshop.aspx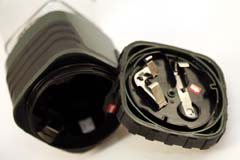 The SL300 lantern takes three 1.5V size D batteries which give up to six hours of constant use life.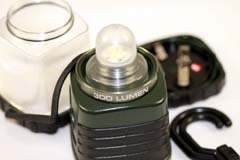 The SL300 lantern lens cover can be easily removed to give you directional light.
---