The balance to strike with pre-prepared expander pellets for pole fishing is that they need to be soft enough to get you the most bites and be easily sucked in by the fish, yet have some texture so that they don't fall off the hook too easily, meaning they can be shipped out without worry and ideally still be on the hook more times than not if you miss a bite.
I once did an in depth test of all the main pre-prepared hook expanders and the variation was amazing – some were too soft in my view, many too firm, and one of the ranges all floated…
Bag 'Em Match Baits is impressing me and these 'Soffits' pellets also seem to have things about right. They are certainly firmer than expanders you do yourself and in fact with a gentle cast can be used on rod and line because there's a fibrous texture too them.
There are three flavours and they are all quite strong – Red Reaper, Super Natural (light brown) and Super Marine (dark brown) – each available in 200ml re-sealable pots costing £2.49.
In my tests I found all the 4mm pellets sank, while some of the 6mm Soffits expanders needed a light squeeze to sink – this in my opinion is a good thing because if you pick out the floating ones and check that they sink with a quick squeeze or a hook in before shipping out, these will be the closest to being critically balanced, which on hard fished commercial fisheries is how you want them. They can be bought direct from the Bag 'Em Match Baits website or at stockists.
Geepster
Bag 'Em Baits Soffits
Flavours/Colours: Red Reaper, Super Natural (light brown) and Super Marine (dark brown)
Sizes: 4mm or 6mm, in 200ml pots
Cost: £2.49 per pot
Website: www.bagem.co.uk
Tackle shops: www.total-fishing.com/tackleshop.aspx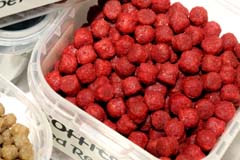 Soffits have a slight fibrous texture – you can lift into fish without them coming off the hook.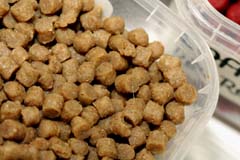 Soffits are available in 200ml pots in 4mm and 6mm and in three flavours.
---