The NFA Division Two National took place last weekend on Leeds and Liverpool Canal near Wigan where Fox Match Blackhorse galloped to victory on the day.
The venue proved to be a tough one, with tough windy and cold conditions making the fishing for all 380 competitors tricky at the best of times.
Fox Match Blackhorse won with resounding certainty as they finished the match with 303 points and 14.020kg, 28 points ahead of their nearest rivals Farnborough and District. Talking to their team captain Graham Smith after the match he commented,
"The talk before the match was to fish bread punch; however the team has been doing a lot of practice before and we came up with our own style of ground bait and squat along with chopped worm which all worked perfectly today.
We have been together for three years now, but this is our strongest team and everyone has done brilliantly today. We won promotion last year at Littleport and continued our winning ways since, adding the Eastern Regional Shield last year and now the national championship."
The second placed team, Farnborough and District ended with 275 points and a combined weight of 13.780kg. The team was helped to its runner up spot thanks to a great team performance which saw three of the team achieve top six positions in the sections.
The third placed team was Eclipse AC who ended with 261 points and a combined weight of 14.540kg. It was team standout Keith Hulland who had the best individual placing in the team with a fourth placed finish and section win, with angling journalist Tony Keeling also fishing well achieving 17th place overall.
In the individual competition, a superb individual performance by Thomas Robinson of Reddish AC gave him a resounding victory on the day finishing with a weight of 9.950kg. Thomas who has been fishing for the team for the last 15 years was delighted with his result commenting, "I have fished the nationals for the last 7-8 years now and it is brilliant to win. I was quite sheltered where I fished which helped bearing in mind the conditions."
Thomas was well ahead of his nearest rival Ian Taylor of Vale AC who finished with 5.250kg commenting, "I have fished for Vale AC for four years and it was fantastic coming second, especially as this is the first time I have fished a national. I caught five bream and two roach today, but like the winner I was a bit sheltered which helped with the weather being a bit harsh."
In third place overall was Mark Little of Cheshire MG who finished with 5.240kg just behind second placed angler Ian. Marks medal capped a great day for the Cheshire team who managed to win two sections in the match, finishing tenth overall.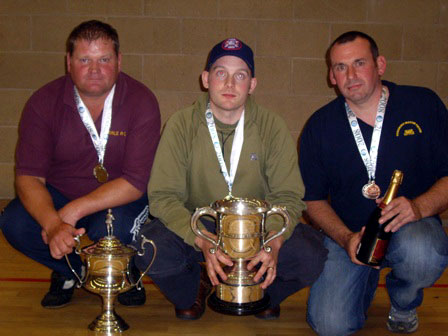 Winner Thomas (centre), Ian Taylor second place(left0, Mark Little Bronze (right)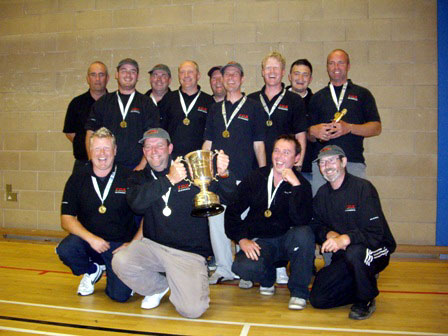 Fox Match Blackhorse Winners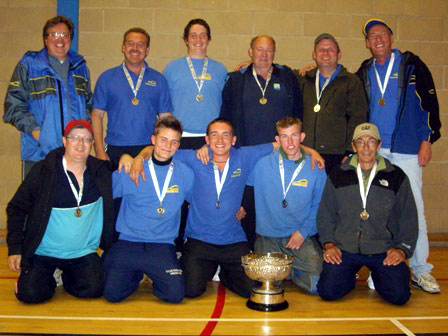 Farnborough and District Runner up Team