This year's Thames Tidefest was another great advertisement for London's river with some excellent and surprising fish caught by the 40 competitors at Kew and Barnes on the 7th Tidefest Angling Championship.
These included sea trout, mullet, smelt, bream, chub, dace and some high quality roach. All fish other than eels were eligible to weigh in and this year's event was notable for the numbers of small fish present in the tidal river on what has previously been more of a big fish venue.
The shoals of large bream that usually win the contest at Kew did not show this year but the organisers were delighted to see a number of double figures bags containing quality roach up to a pound and a half.
Two seatrout, one brown trout and a mullet were landed to illustrate what a diverse fishery the Thames has become following years of investment in cleaning up the sewage discharges that once rendered this famous river as 'biologically dead'. Surveys by the EA have indicated 127 different species of fish now living from the tidal limit to the Thames Estuary. The river will be further improved when Thames Water open the Tideway Tunnel in 2025 removing nearly all storm water discharges which have caused repeated problems.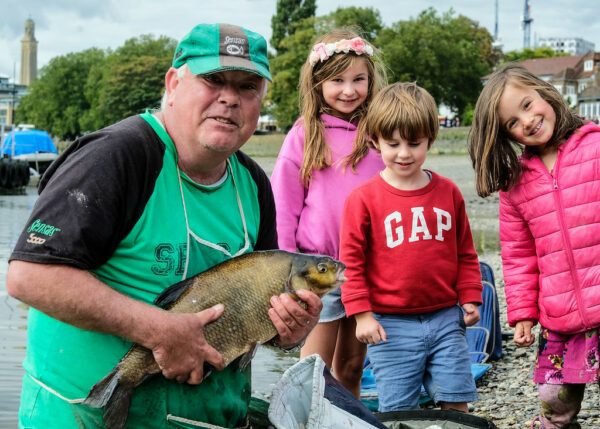 Congratulations went to three times winner Mike Martin-Davis for his 19lb 1oz feeder-caught bag of bream and roach from in front of Oliver's Island downstream of Kew Bridge. Mike (pictured holding one of his bream) fished worm and maggot in an open ended feeder and secured top place due to a late bream which pipped Nigel Newport to the top prize of £500.
Tidal Thames regular Nigel only had around 5lb going into the last hour or so but he knew the fish would come short as the flow eased. Regular feeding with groundbait, maggots and chopped worm saw quality roach and skimmers lining up on his float line giving him a total weight of 15lb 2ozs for second in the zone and third overall.
To create a fairer match it was fished in eight sections of five anglers spread over two zones with the top four prizes split between Barnes and Kew. Therefore the second prize of £400 went to Daniel Hurst with a mixed bag of 11lb 4oz from the top peg at Barnes. At the bottom end of the zone Henry Frampton caught well in the last hour to record 10lb pipping previous prize winner Richie Tomala by a single ounce. Both Henry and Richie also had quality roach in their nets.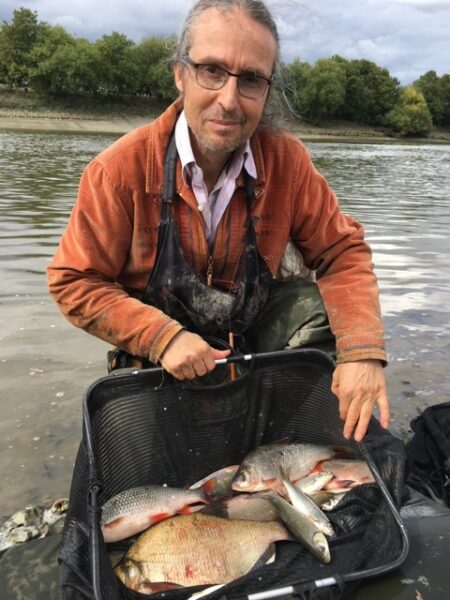 Full Results – by zone
1) Mike Martin-Davis – 19lb 1oz (Kew)
2) Daniel Hurst – 11lb 4oz (Barnes)
3) Nigel Newport- 15lb 2oz (Kew)
4) Henry Frampton – 10lb 0oz (Barnes)
The competition was sponsored by Thames Water and organised by their Angling Development Manager Will Barnard in conjunction with the Angling Trust. The event raised £400 for angling charity Get Hooked on Fishing, and angling broadcaster and Thames regular Keith Arthur presented the prizes.
Keith Arthur said:
"This stretch of tidal Thames is virtually on my doorstep and I've watched it evolve down the years. I would honestly say catches are currently more diverse and interesting than at any time during my time on the river, which goes back almost 60 years. The river is indisputably cleaner and will be even better in five years time when the long awaited interceptor tunnel is finished."
Tidefest Chairman and Angling Trust Policy Chief Martin Salter added:
"Although we didn't have the big bream weights of previous years it made for a fairer and more interesting contest. It was great to see float anglers featuring in the main prizes and wonderful to see those clonking great roach swimming around in the middle of London."