The Blue Peter Hotel at Kirkcolm, Stranraer in the Scottish region of Wigtownshire is the perfect base from which to enjoy the magnificent fishing of Loch Ryan and the surrounding area.
Coarse anglers can target pike to over 30lb, plus quality bream, roach and perch on venues like Loch Heron. The sea angler has really high class sport to go at – indeed the Scottish shore-caught tope record was caught nearby and ballan wrasse over the Scottish best have also been returned. Charter boats head out of Stranraer daily – time things right and there's also the opportunity to target the giant common skate, that run to well over 200lb in this area. There's also a growing saltwater fly fishing scene with a number of potential IGFA world records having been returned to fight another day.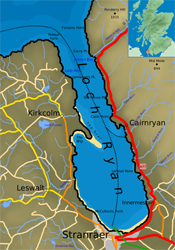 And if you prefer fly fishing in its more traditional form, river sport with salmon and brown trout is available on River Tarf, plus there are some fine stillwater rainbow and blue trout to target.
The hotel itself dates back to the 1800s but the current owners Alan and Jackie Ashton took over in November 2012. It's a place that prides itself on real ale, real food and real hospitality and was named CAMRA's Ayrshire & Galloway Pub of the Year in 2007.
Set as close to Loch Ryan as it is, the hotel has had a long association with the sea and seafarers, and it is not surprising to discern a nautical theme within the hotel's decor and fittings. One can almost feel the presence of the old seadogs within the bar and lounge, spinning tales of far distant shores, mountainous waves, or perhaps vast shoals of mackerel or herring hauled into port. Doubtless the hotel in its past saw more than a few smugglers pass through its doors, given the area's proximity to secluded bays and coves on both sides of the Rhins, and the locals' inherent reluctance to pay import duty!
As well as offering fantastic fishing opportunities for anglers (and for golf fanatics) this is a bird watchers and wildlife paradise. The pub still has red squirrel's feeding in the garden (remember them?) and often peregrine falcons and buzzards overhead.
The Rooms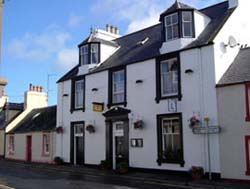 All the bedrooms at the Blue Peter Hotel are en-suite with tea and coffee facilities and TV in all rooms. There is a family room and two twin rooms, a beer garden and a tackle shed available. The cost for a twin room including breakfast at the time of writing is £56, while it's £35 for single occupancy.
There is also a Public Bar where you can enjoy a game of pool or darts, and a Lounge Bar with a good range of Malt whiskys for the discerning palate. There's a Quiz Night every Tuesday with a buffet.
Fishing Around Loch Ryan
Three Lochs
Coarse anglers will enjoy Loch Heron and Loch Ronald in particular, which are both bursting with pike, bream, rudd, roach, carp and perch. The pike run to 30lb with lots in the 10lb to 15lb bracket. There is a fully-stocked tackle shop here, with permits costing £6 per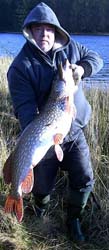 day available from the Three Lochs reception. Night fishing is allowed (£25); but livebaiting isn't. Boat fishing is permitted with own boats to a max of 5hp outboard motor on Loch Ronald only.
www.3lochs.co.uk/fishing/
River Fly Fishing
The River Tarf (Airyligg Beat) is a £12-a-day, three-mile-long, fly-fishing-only spate river, best fished after heavy rain, where salmon and brown trout are the main target. The boundary at the top of the beat is the stone wall that crosses the river approximately 200 yards below the Tarf bridge. Both banks can be fished from this point down until you reach the foot bridge at Airyligg Farm. From this point only the east bank (road side) can be fished until the conifer plantation (about a mile downstream).
Trout Fishing
Black Loch is a fly-only, barbless hooks only fishery stocked with quality brown, rainbow and blue trout – mainly 2lb–8lb specimens. There are four two-person boats available. Pre-booking is recommended. There is also day ticket trout fishing available at Kirkcolm Fishery north of Leswalt. This venue allows fly fishing and bait fishing for rainbow trout. The fishery is surrounded by natural fields and woodland and tackle hire and tuition are available.
Sea Fishing At Loch Ryan
The sea angling around Loch Ryan can be quite exceptional. Good catches of bass and mackerel are a regular occurrence and anglers travel from far and wide to enjoy the tope and skate fishing, with charter boats leaving from Stranraer daily, and private boat hire also available. There's also excellent sport with ballan wrasse, including some real clonkers, and pollack. Charter skippers run popular multi-species trips. Fly fishing for the hard-fighting pollack is fast gaining popularity. One useful online resource for sea angling marks is http://lochryanseaangling.webs.com/localmarks.htm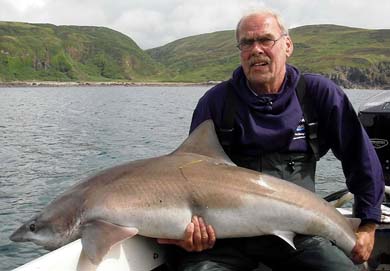 Tope Fishing
The tope fishing here is top class through the summer and indeed the Scottish shore caught tope record of 54lb was caught nearby. When conditions are right there are tope to be caught from the beginning of May right up till the end of October with charter skipper Ian Burrett (www.onyermarks2.co.uk) specialising in them and operating three boats out of Stranraer.
One incredible day in May, a few years ago, produced 53 tope in a hectic eight-hour session for just three anglers.
At that time of year anglers are fishing for tope up to 35lb in just 25ft of water. Spinning rods or 6-12lb class boat rods give brilliant sport from these fish. Float fishing for the tope is also great fun.
In June-August anglers travel further offshore to locate the larger tope in the breeding packs and 20 tope a day is not unrealistic, with 30-40 fish days common, although there is no exact science to locating them. More bull huss are starting to show up too and the rays are making a significant recovery, plus there's always the chance of a big bass picking up your tope bait.
September and October sees fewer in numbers, but it is the time when the 'big mamas' and the 50lb males show. Ian has released three tope that would have broken the British record and regularly releases fish between 50lb and 70lb.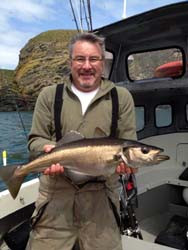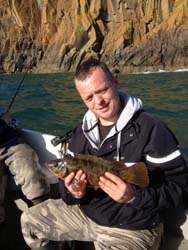 Pollack
These hard-fighting fish are renowned for that 'tell-tale' power dive which can leave the angler hanging on whilst line strips off the reel. These are targeted with free-lined sandeel or launce baits from the boat and an average day will produce well over 100 fish for four anglers with the odd double figure fish – great fun on carp or spinning gear. Local skippers operate this fishing on a catch and release basis and on the same grounds catch conger, coalfish, the odd ling and four types of wrasse. At least one wrasse over the Scottish record has been returned. Fishing for the pollack on the fly has become increasingly more popular and is catered for, with a maximum of two anglers per boat permitted.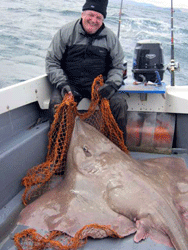 Common Skate
Local skipper Ian Burrett has been running spring skate trips to the Oban area for nearly 20 years. He started fishing the Jura Sound in 2009 and the catches were astonishing with an expectation of 4-6 skate a day including fish to over 200lb. It's led to him being fully booked and also now running skate trips from October into November. Tackle can be supplied.
Fact File
The Blue Peter Hotel,
23 Main Street, Kirkcolm, Stranraer
Wigtownshire Scotland, DG9 0NL
Tel (+44) 01776 853221
Email: bluepeterhotel@talktalk.net
Website: www.thebluepeterhotel.co.uk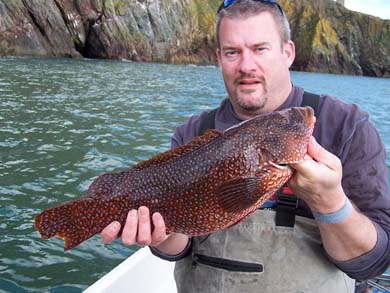 Dave Wright with a ballan wrasse of 6lb 4oz that would have beaten the Scottish record, caught on one of Ian Burrett's Species Hunts.