Fishing can be an awe-inspiring or relaxing recreational activity and anything in between – it's one of those sports that can mean many different things to many different people of all age groups. For those of you who are looking to cast a line, the first decision you are going to need to make is to choose between freshwater fishing and saltwater fishing. That can of course be governed by geography, but there are other factors too.
Where to Fish
Now you don't need to be a genius to know that saltwater makes up a great percentage of the earth, while freshwater is the opposite, with only 2.5% of water globally. While saltwater fishing is pretty much always fishing for wild fish and often from a boat, in freshwater you can be fishing natural waters like rivers and large lakes, or fishing stocked waters such as commercial fisheries, and more commonly from the shore. Shore fishing may well involve clambering over rocks, while many freshwater fisheries have pegs already cut out for you and easy access.
Expenses
Saltwater fishing requires constant upkeep, repair or replacement of equipment, especially the metallic kind which can easily corroded by the salt content in the water if not washed down with fresh water after every trip. The corrosive effect of salty water can weaken the equipment at a fast rate. With freshwater fishing, on the other hand, your equipment can last longer and less maintenance is required. Having said that of course, some freshwater equipment such as match fishing poles can be hugely expensive to buy, as they use latest carbon technology to combine strength with a very low weight. Some match fishing poles cost over £2000 to buy. Mind you if you buy a boat, you are into cost much higher than that.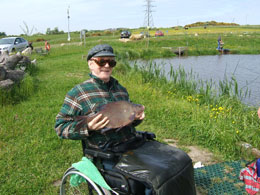 Fish Size and Variety
One key difference is that for much of the time (although not always) sea anglers are fishing from the pot, and looking to eat what they catch. That's not true for much freshwater fishing, especially coarse fishing, where fish are usually returned to fight another day. Generally speaking (although not always) the majority of the types of fish found in salt water will grow larger in size compared to those found in freshwater. This does not necessarily mean that you can't find big fish in freshwater – both pike and carp can readily grow to over 30lb in weight. Off the UK coastline the types of fish anglers most commonly target are species like cod, pollack, bass, flatfish and rays. In freshwater UK anglers are likely to come across fish like roach, bream, perch, tench, barbel, chub and dace. Fly anglers will often be fishing for rainbow trout, usually in stocked stillwaters, although there is some river fishing for brown trout, grayling and very rarely these days, salmon. The largest freshwater fish of all is the sturgeon, but that's not a fish rod and line anglers are going to be coming across.
Safety First
Saltwater fishing tends to carry more inherent dangers than freshwater fishing, especially if you are fishing from your own boat. Sea anglers have waves, currents and tides to consider and have to be especially careful if fishing from rocks. Boat fishing tends to be from charter boats which are run by professional skippers. On the other hand, the chances of encountering danger in freshwater bodies are much lower, although anything carried out so close to water needs some thought from a safety viewpoint. Anyone fishing from a boat, be it on fresh or saltwater, should wear a lifejacket at all times.
Fishing Times
Saltwater fishing times are determined by the tides, which keep changing in the course of the day. That applies just as much to boat fishing as shore fishing. Good skippers know when the best times of the tide are and will position boats and inform customers accordingly. The shallower the water (eg in the English Channel), the more important tides become. Shore anglers often like to fish the incoming tide, and on shallower beaches can walk backwards as the tide comes in, although if you are doing that you need to know what you are doing from a safety viewpoint. In freshwater the weather and time of day pays more of a part. Heavy rains will often flood rivers, making fishing all but impossible. In summer, the middle of the day can be too hot for the fish as oxygen levels decrease resulting in the migration of fish partly to deeper, cooler areas or otherwise just switching off the feed, and early morning or late evening are often the best times. Night fishing is very popular in the UK on freshwater too, especially for wary carp. In the winter the opposite is true, with fish feeding for short spells in the middle of the day.
That's just a few differences, and many, many anglers to some freshwater fishing and some saltwater fishing. As with anything, you get out of it what you put in, but fishing is one of those sports you can start very young and can carry on partaking in well into your older years.