This was the first year that Gurus has has run the Guru Match Academy, so it has been great to see the youngsters who graduated from it doing so well since then!
The lads who took part in the two-day event at Makins Fishery, back in the summer, picked up plenty of tips from some of the best matchmen out there, who were on hand to pass on their knowledge, and since then it has been put to good use as the students have been regularly winning matches.
The two lads who secured themselves one-year Guru sponsorship deals for being the most promising students, Rob Swan and Will McCranor, subsequently teamed up and ended up winning an adult pairs match!
Rob and Will entered the Pole Fishing Pairs competition, and ended up winning their qualifier at Woodland Lakes, Thirsk, and qualifying for the grand final on March 4 at Woodland View Fishery, where they will be in with a chance of securing the £4,000 first prize.
Rob revealed: "We paired up for the qualifier and flipped a coin to decide which lake we would draw from, with me on either Dragonfly or Wagtail, and Will was on Partridge.
"I ended up on Dragonfly, a lake that I've never fished before, but I knew that it had a good head of skimmers so I decided to mostly fish at 11m for them and to keep my plan as simple as possible.
"The reason why I decided to start at 11m is that it is important to have somewhere to go and to be able to follow the fish out when it gets harder to catch on your original line. I also started by feeding a short line at 5m, throwing in maggot and caster, but I didn't catch anything off of this line all day, possibly due to the cold, clear weather conditions the previous night.
"I started by just feeding a small ball of groundbait laced with chopped worm, caster and dead pinkies at 11m so I could feel my way into the session without risking over-feeding at the start.
"I only managed to catch two small F1s in the first 40 minutes though, so to try and encourage some more action I began to spray maggot and caster over the top of my 11m line to hopefully bring in some small skimmers.
"This worked and resulted in me having a steady run of 4-6oz skimmers on single dead maggot, and the run continued, along with the odd bonus bigger skimmer as well, including one of about 2lb, coming to my net.
"That continued until an hour-and-a-half to go, when I had to start a new line at 13m as the other one died right off. I fed a small ball and spent a few minutes pinging in maggots before deciding to have a look on this line, and it resulted in another ten small skimmers before the end of the match.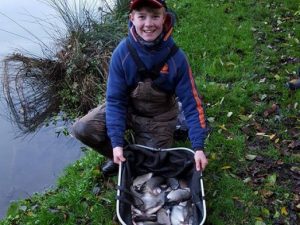 "By the time the all-out sounded I had about 40 small skimmers and a couple of F1s in the net, which weighed in at 18lb and was enough for me to win the match overall. I was really pleased as I'd had double the weight of anyone else on my lake, with some blanking, and I just had to hope that Will had done enough for us to qualify.
"Luckily he'd done very well as his lake had fished very hard, and had put together 8lb, giving us a combined weight of 26lb, which meant that we had won and qualified for the final in March.
"I honestly can't believe that we have managed to achieve this and there are already some brilliant anglers through, including England internationals, so I'm so proud of us both and can't wait for the final!"