Hardy's long awaited return into the Coarse fishing market is now official with the launch of a brand new, full colour 30 page catalogue featuring over 20 new products.
With photography and copy provided by John Bailey, Jon Ward Allen and Andy Petherick, Hardy's 2008 Coarse Fishing catalogue aims to provide a great read for all anglers as well as showcasing the vast array of newly developed products.
These include new innovative products such as the 12 specialist rods that make up the Marksman rod range, the Hardy Conquest Centrepin reels and the Extreme Weather System (EWS) Clothing.
Coarse Marketing Manager, Andy Petherick of Hardy & Greys says that "previous editions of the company's catalogues have become collector's items."
"We apply the same high standards to producing our catalogues as we do for our products and the one for Hardy's new Coarse range is no exception."
"As well as some stunning scenic photography, we have included a rare insight into the design and development facilities utilized by Hardy during a product's development in our Northumbrian headquarters which will make it a must-read for all Hardy followers."
An electronic version of the Hardy Coarse catalogue is now available to download at www.hardyfishing.com. Hard copies of the A4 landscape document will be in dealers' stores from late January.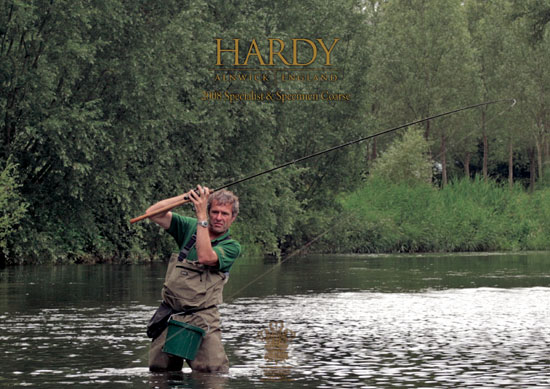 Front Cover