Picture: England Under 20s 2018 – left to right… Jordan Holloway, Jack Damant, Geroge Organ, Andrew Cranston, Sam Collett.
Sensas England Under 20's narrowly missed out on a medal with a fourth-place finish overall, in an incredibly tight podium battle on the Cavo Lama canal, Italy. This was just behind Spanish and French teams in the 15-nation event.
Final Team Results
1st Italy 22pts
2nd France 42pts
3rd Spain 46pts
4th England 48pts
5th Holland 51pts
6th Croatia 53pts
After a disappointing score of 27pts on day one, an unfavourable high draw in Section A put ways to a low score, the team rallied on the second day with a 21-point performance. Day two saw an even more unfavourable draw in Section A and was a truly impressive performance by the team.
The anglers had to contend with 38 degree heat, with high humidity across all the practice and matches and showed maturity beyond their years, managing their bait and all performing well. They caught on average 175 – 200 fish each per match, some small carp, carrassio and catfish at 6 – 7 metres over groundbait and sticky maggots.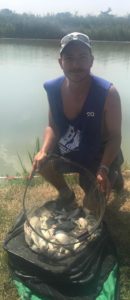 England Individual Scores were;
Jordan Holloway 11 pts 5th and 6th in sections
Sam Collett 13pts 9th and 4th in sections
Andrew Cranston 14pts 4th and 10th in sections
George Organ 8pts 1 day only
Jack Damant 2pts 1 day only
Standout performance with a brilliant display, was Jack Damant on his England debut at the age of 18, recording a second place in his section on day two.
Steve Saunders, U20s team manager commented, "With Jordan Holloway 19years of age and Jack Damant 18yrs old, the future looks bright for the Sensas England Under 20 Team. In addition to this, we also have several young anglers progressing up through the Talent Pathway into International teams".
The Angling Trust would like to thank Sensas for their continued support of the team and all the parents, guardians, and support team that make internationals like this possible.