On another blazingly hot weekend the seventh leg of the Dynamite backed AT/CRT pairs made its way northwards to the mighty Rochdale canal. A 36-man field were drawn across A Section (Whitehouse and Deadlength) and B section (Derdale and Sandholme).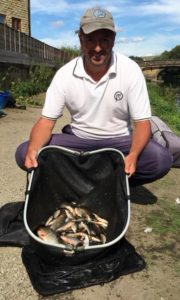 The winning pair on the day were Johnathon Jowett and Kerry Kirkwood, with Johnathon the standout performance of the two anglers. Drawing peg 12 on Deadlength stretch of A section, John snuck out a section win by a mere ounce with 10lb 14oz. This was made up of one bonus skimmer and netful of small roach with a long bread line and a long maggot and groundbait line being the key tactics. Kerry backed up John nicely off peg B8 with a very respectable 6lb 10oz and 12 points.
The second qualifying pair on the day were Dean Meadows and Jason Irving. The pair were fortunate to claw through on weight countback, with a 3lb superior weight to Stuart Bird and Dave Trafford. Both men employed similar tactics, in that they fished well across the canal between 12 and 14 meters and cupped in worm and caster. Dean caught a decent bream and skimmers for his 14lb 11ozs section winning weight off peg A16 and Jason caught perch and roach for his 4lb 2oz and his eighth place.
The Angling Trust would like to thank all the hard work put in by Adam Jagger and the team at Todmorden Angling Society for hosting a cracking qualifier that has gone down very well with the anglers.
If you want to get involved in some of this fantastic canal action, all the remaining qualifiers and tickets are available through our booking system.
Results
1) Johnathon Jowett and Kerry Kirkwood 30pts (Qualified)
2) Dean Meadows and Jason Irving 29 points (18lb 13oz) (Qualified)
3) Stuart Bird and Dave Trafford (15lb 13oz)