Paul Abbott could hardly wait to get to his peg after discovering he had drawn the most fancied peg in the entire match length in Saturday's Angling Trust Individual National on the Grand Union Canal between Stoke Bruerne and Yardley Gabion.
The Yardley stretch has one peg that sits at the opening of Kingfisher Marina which wins every open match there, and with the organisers deciding to include it, the match was over for most of the 200 peg field once the online draw had been made.
And Paul, who used to win 20 Kamasan points here every year before the zander had all the squatt fish, made no mistake weighing in nearly 13 kilos of skimmers, which was more than twice all bar two other anglers in the quality field leading up to the weekend's Division One National on the stretch could muster.
"Friday evening rumours suggested 143 and 144 were either side of the highly fancied (by all 200 anglers) marina mouth. Luckily the rumours were a couple of pegs out and I found myself sat on THE flyer!!" said Paul.
"I set up two pole lines at 14.5 and 16 metres, a waggler rod and 2 tip rods , open end and a hybrid.
"I had a slow start on the pole lines with only 1 8oz skimmer and it was onto the open end feeder and I had a liner 1st chuck, followed next cast with a 2lb bream. Loose feeding casters over the top, I was getting liners and the odd proper bite, and was up to about 8lb after 2 hours and kept plugging away. A quick look on the waggler produced one more skimmer, but with the wind proving too strong for the waggler, I have sat it out on the open end feeder for the rest of the match. Apart from one quiet spell when a canoeist from the marina put his paddles in where I was catching in 2 foot of water, the last three hours produced mainly 1lb 8oz to 2lb 8oz skimmers, hybrids and bream, all on three red maggots to end up with 12 kilos 770 grams, which was enough to win the match, the other most fancied peg (1) coming 2nd with 9kilos, and Graham Smith completing the top 3 with just shy of 8 kilos."
For many it was an eye opening with the Division One National in mind, with a kilo enough for half way up the field and many struggling, and the first 90 minutes of the match absolutely critical.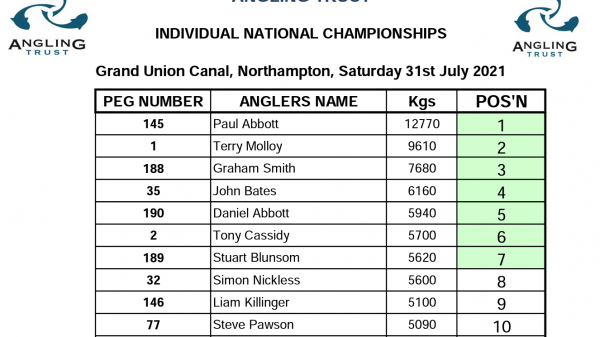 Pic: Paul Abbott with the catch that easily won him the 2021 Angling Trust Inidvidual National at yardley Gabion.