I was a touch slow on the uptake with the use of these Hook Ups from Nick Palmer's Real Ideas range (he of the Clever Claw).
When I first used them they slid along the pole and basically I thought they didn't work properly. Then I watched a You Tube video of them in action and realised that you have to secure them in place with a single twist – and then they work perfectly. You just place it onto the correct past of the section and your hook goes into the eye of the Hook Up to keep it safely against the section and out of the way of tangles and undergrowth.
Each pack comes with seven differently sized Hook Ups of various sizes to lock in place around anything from a No2 section for those short shallow rigs, to a No4 section for those full depth rigs.
If you are fishing deeper water and don't have enough spare No4s, just use two on a No3 section and secure the rigs by going down to the bottom of the section and then back up it again.
Made from long life nylon, these won't perish and also have a second use as 'hang-ups' when paste fishing. They cost £1.99 a pack.
Video: http://www.realideas.eu/Hook%20Ups.html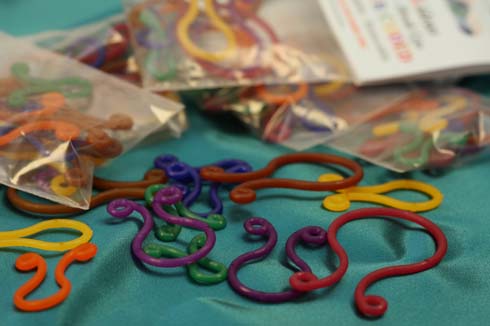 The key to using these Hook Ups from Real ideas is to twist them once in place.
---