Team Championship victory for local team Scunthorpe Red at the Angling Trust Division Two National Championship 2012. But all the talk afterwards was about the announcement that the 2013 Division Two national will be fished on a commercial stillwater for the first time.
Team wise it was a convincing performance from Scunthorpe Red for whom six of their anglers scored 30 points or more out of a possible 34 points and they deservedly took the winning trophy with 286 points. A sure indication that local knowledge paid off on the day of the Angling Trust Division Two National Championship on Saturday 28th July on the Scunthorpe A.C. water on the Stainforth and Keadby Canal.
Mike Storey, Club Secretary of Scunthorpe Red said "One or two of the team were fortunate to draw near bream and made the most of this while the other anglers maximised the opportunities of their pegs. Graham Frith, Team Captain who caught eels and rudd typified this. The team obviously had a home advantage, but still used their water craft to maximise their own points."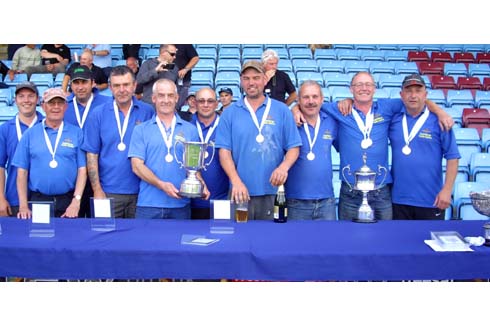 Scunthorpe Red – Division 2 Champions 2012
In second place were Honeywell A.C. Barnsley with 259 points, and third place went to Browning Lifestyle Match Group with 242 points. Another local team came in fourth when Boston A.C totalled 232 points.
A total of 33 teams fished the National Championship,and some sections of the canal had been producing good catches of bream in practice sessions, and so it also proved to be on the day. Favourite areas were B and C section which provided ten of the top fifteen individual weights.
The top ten teams promoted to the Angling Trust Division One National Championship for 2013 are:-
1st Scunthorpe Red 286 points
2nd Honeywell A.C. Barnsley 259 points
3rd Browning Lifestyle Match group 242 points
4th Boston A.C. 232 points
5th Tackle 2 Fish 228 points
6th Tri Cast Highfield 223 points
7th Prince Albert A.S. 222 points
8th Lincoln and District A.C. 221 points
9th Trabucco Rok Halifax 209 points
10th Liverpool A.S. 206 points
All the top individual anglers on the day caught bream and skimmers with worm and casters being the best baits. As a back up most anglers relied on fishing squats on light tackle which produced lots of small roach and perch, which for some anglers were boosted with a tench or a bream to bump up their weights. Out of all the anglers who fished the event there was only one blank.
A worthy individual winner was Jason Jones fishing for Mansfield and District on peg C 15. Jason weighed in exactly 20 kilos which is a fantastic weight for a canal match. His catch was largely made up of bream up to 1.5 kg on caught on caster and worm fishing both a groundbait feeder and the long pole.
Runner up on the day was Paul Moutrey fishing for the local team Scunthorpe Red, another bream catch weighing 15.320 kg from peg K 34. Third place went to John Stutley fishing for Ampthill and District with 15.050 kg from peg B33.
Top 10 Individuals
1st Jason Jones Mansfield and District A.S. Peg C15 20kg
2nd Paul Moutrey Scunthorpe Red Peg K34 15.320kg
3rd John Stutely Ampthill and District Peg B33 15.050kg
4th Roy Wells Scunthorpe Red Peg C16 13.230kg
5th Gary Foster Pelham A.C. Peg C2 11.580kg
6th Les Waldron Pelham A.C. Peg B34 11.200kg
7th Christoher Simpson Prince Albert A.S. Peg B32 10.700kg
8th Gareth Charnock Liverpool A.S. Peg F32 10.240kg
9th Carl Pringle Tang Hall M.G. Peg C23 10.150
10th Trevor Hinckley Ashfield A.S. Invita Peg F1 10.030kg
Silver Medal Section Winners
A Section A 24 Wayne Easter Scunthorpe Red 8.320 kg
B Section B33 John Stutley Ampthill and District 15.050 kg
C Section C15 Jason Jones Mansfield and District A.S. 20kg
D Section D17 Martin Brown Thornhill A.A. 4.630kg
E Section E32 Bob Murphy Ashfield A.S. Invita 6.200kg
F Section F32 Gareth Charnock Liverpool A.S. 10.240 kg
G Section G3 Terry Smith Measham and District A.S. 2.780 kg
H section H1 Ian Ross Browning Andover M.G. 5.040kg
J Section J34 Stu Campbell Trabucco Roc Halifax 4.410kg
K section K34 Paul Moutrey Scunthorpe Red 15.320 kg