The flagship coarse fishing industry team event for the Angling Trust saw 16 of the country's top teams out in force at Mallory Park Fisheries in Leicestershire fishing under blustery conditions.
One-and-a-half inches of cold rain earlier in the week did not help the venue and it turned out to be a difficult match for many of the 96 competitors.
Glebe Pool 1 was the place to draw with 11 of the 16 competitors that made up this section all catching over 100lbs. It was a fierce battle with several anglers in contention for individual honours as the match progressed.
At the weigh-in, Steve Ringer fishing for Guru/Shimano Black, came out on top with 184lbs. Steve attacked peg 22 on Pool 1 with an open-ended feeder filled with hemp, caster and dead maggots, using 3 red maggots as hookbait.
Catching carp to 9lb to amass 100lbs of his final total in the first three-and-a-half hours, Steve switched to a 'short top kit plus 2', bagging 80lbs of both silvers and carp in the last 90 minutes, feeding hemp and corn, and using corn on the hook. Steve's positive approach saw him get through no less than 4 pints of caster, 3 pints of hemp, 2 pints of dead maggots and 8 tins of sweetcorn.
Shakespeare's Neil McKinnon grabbed second spot with 172lbs of mainly carp from Pool 1 peg 10, fishing shallow on pole and pellet, and later down the edge to tempt bonus fish.
In third place came Hinkley's Jarrad Smith from Team Marukyu weighing in 165lbs from peg 16 on the prolific Pool 1.
The local hot rod used his venue knowledge to catch carp on both pole and feeder, climbing the podium individually and leading the home team into second place overall on the day.
Result:
1st Steve Ringer 184lbs Guru/Shimano
2nd Neil McKinnon 172lbs Shakespeare
3rd Jarrod Smith 165lbs Team Marukyu
Section winners:
Section 1 Steve Ringer 184lbs Guru/Shimano Black
Section 2/3 John Hall 132lbs Team Marukyu
Section 4/5 L. Sears 77lbs Team Daiwa
Section 6/7 Garry Saddler 119lbs Team Marukyu
Section Big Lake Tim Bull 71lbs Guru/Shimano Black
Section Foundation Lake Phil Ringer 83lbs Guru/Shimano Black
The Team event was won by possibly the strongest commercial match team that could have been put together by Guru/Shimano. Making no mistakes from a fancied draw, the Guru/Shimano Black team did a great job to finish first with 21 points, scoring a comfortable victory on the day.
In second place was home side Team Marukyu followed by Guru/Shimano Orange with 39 points.
The triumphant Guru/Shimano Black team members, captained by Alex Bones, were Phil & Steve Ringer, Mick & Tim Bull and Roly McEneaney.
Mallory Park Fisheries again sponsored the event and Roy Marlow said,
"This event is supported by our industry and its angling representatives who are all key ambassadors and fly the flag for everyone that goes fishing. They are a true credit to our sport."
Representing the Angling Trust and presenting the prizes was Membership Manager Will Smith who thanked all present for their support and said, "As members of the Angling Trust, everyone here today should be proud that they have invested in the future of the sport you all love, participate in and, in some cases, make a living from. All other anglers should follow by your example. There really is no excuse for not joining and when you consider the threats to angling – pollution, predation and poaching to name just three – the cost of Angling Trust membership, at just 39p a week, is a small price to pay to belong to the only organisation which is making a real difference on these and all the other big issues." Will urged all those present to assist the Trust by encouraging their fishing friends, trade contacts and fellow club members to sign up as Individual Members by calling 0844 77 00 616.
The anglers raised several hundred pounds and Linda Marks presented an additional cheque of £500 to Fish Legal (formerly the ACA), the legal branch of the Angling Trust. This generous donation is part of the money collected at the Ivan Marks Memorial event held earlier in the year. Ivan was a big supporter of the ACA and all that it accomplished and their work continues through the ongoing achievements made by Fish Legal in bringing to justice those who threaten and pollute our waterways and fisheries.
Top angling website www.Total-Fishing.com entered two teams made up from the most successful competitors from its events, and they finished an excellent joint fourth.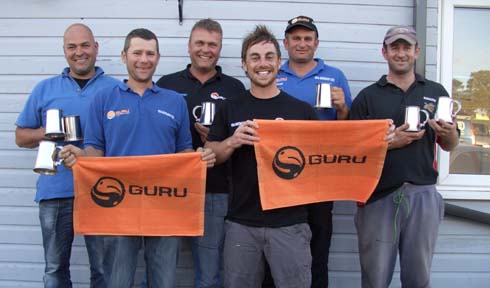 Team Guru won the team event at the 2010 Angling Trust Masters, formally the ACA Masters.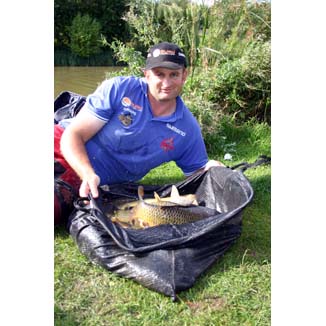 Steve Ringer with part of his 184lb winning catch from the 2010 Angling Trust Masters, taken on feeder from Pool 1 at The Glebe.