Evesham Festival
Shakespeare Veterans Championship
Warwickshire Avon – Evesham Town Waters and Hampton Ferry
70 pegs
Wright approach takes title!
The Warwickshire Avon was carrying about six inches of extra water and a fair bit of colour for the 2010 Evesham Festival Veterans Championship, which was won by Long Eaton Victoria team man Alan Wright.
A former National champion, Alan secured victory by a very slender margin with 7-15-0, made up of 17 skimmers and a few perch caught on short pole and stick float tactics with maggot hookbait from Peg 46 on the White House bend. The catch earned him the £500 top prize, a crystal glass trophy and a Shakespeare float rod. He also won a place in the big Shakespeare Championship final on August 28th for a shot at the £6,000 top prize.
Second, just two ounces behind the leader, was Ray South (Ferrymen) with 7-13-0 of chub on float and feeder tactics from Peg 54.
Third place went to Gary Seadon (Evesham DAA) with 6-5-8 of bream and perch from Peg 1. Fourth was former Shakespeare stalwart Tony Davis with 6-3-0 of eels from Peg 65 and fifth was Dave Harris (Barford) with 6-2-0 of chub and eels from Peg 27.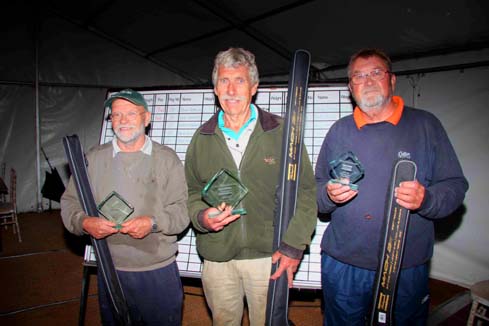 The top three from the 2010 Evesham Festival Shakespeare Veteran's Championship – winner Alan Wright is in the middle.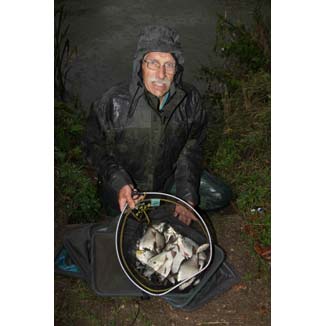 Alan Wright with his winning bag of skimmers from the 2010 Shakespeare Veterans Championship, taken on the White House bend.