Angling Auctions London is hosting a very special collector's sale of vintage tackle on March 26th, when Graham Turner's final and spectacular collection goes under the hammer.
The sale is unique and much talked about, because it includes what experts believe to be some of the most desirable collectors' reels, rods and lures ever to come to auction. Devotees predict this will be the 'benchmark' vintage tackle auction for many years to come.
Vintage and antique tackle is in great demand in over 30 countries and is fetching high premiums. A Haskell minnow lure made c1859 sold for $101,000 and a pair of Hardy White Wickham sea reels made in the 1930s fetched £48,000 sterling.
The items of tackle in this sale are even more desirable since the premier lot was made by the most prestigious reel manufacturer of all – the pioneer London maker Onesimus Ustonson.
He invented the multiplier and his Original Multiplying Brass Winch, described as 'The Holy Grail' of collector's reels made c1762 will come under the hammer.
Also offered for sale are tournament reels used by James Hardy to win the world casting championships, and lures brought up from the SS Medina after 70 years on the seabed.
The finest rods will also be offered for sale dating from 1825 to 1856 and stamped 'Earl Spencer' since they were the property of the 4th and 5th Earl Spencer – the late Princess Diana's ancestors.
The most important display of artificial lures in existence (lot 48) in a glazed fronted case is expected to make a new record, since Christie's sold it in 1999 for £29,900.
These are among almost five hundred lots that represent the creme de la crème of every aspect of fishing used over the centuries.
For more information email neil@anglingauctions.demon.co.uk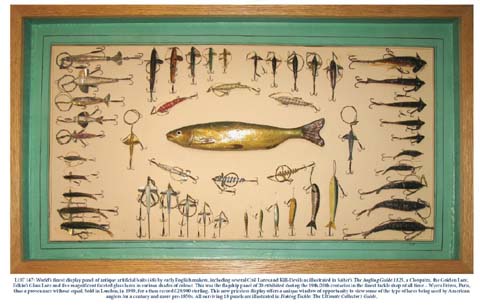 What's thought to be the most important collection of vintage fishing lures that there is goes under the hammer at Angling Auctions, London…
---