Once we went fishing with a wicker creel, a rod and a net. Today we've so much gear to carry that transport is a must. This month the tcf team takes a look at some of the best 'wheels' around.
tcf Buyer's Guide
Pleasure angler, big-carp hunter, river specialist or matchman. The one thing that binds together most of today's modern coarse fishermen is the increased amount of gear that's taken to the bank.
Unless you're the world's strongest man, or you can park right next to your swim, it takes a superhuman effort to transport rods, poles, boxes, rucksacks, bags and bait to your chosen peg that could be, in a worst case scenario, the other side of a 20-acre pit. And let's be honest, when was the last time you saw a super-fit angler on the bank?
Help has been at hand for a number of years in the form of wheel kits for seatboxes and wheelbarrows, the gardening ones. But it's only in the last few years, as anglers carry more tackle than ever, that purpose-built transportation has taken off.
There are many forms of trolley and barrow, and this month the tcf team has sourced a selection that will cover just about anyone's needs in their effort to get to the bank without the need for oxygen or a bank loan.
One of the most important features to look out for when buying transport for your tackle is whether it will take all the kit. It's no good looking at a lightweight trolley if it's so small that it would become overloaded and completely unbalanced. That said, you don't want a massive barrow that is so big and heavy that it's going to give you a cardiac arrest after 20 metres.
So size and weight are a real issue, especially if you have to negotiate stiles, gates and rough terrain on the way to your chosen swim.
Another feature to look out for is the ease of transportation of the equipment. Does the trolley fold down flat and do the wheels detach easily? It's the same with a barrow. Can it be broken down and loaded into the car without taking up most of the storage space? And how easy is it to assemble? You want to look at something that's quick and easy to set up yet will not waste valuable fishing time.
One little point that should not be overlooked is whether the trolley/barrow comes with some sort of strap or bungee to secure the load in place.
Once you're packed and ready to go you'll want the load to be stable. Okay, you are partly responsible for that, but once on the move you want to get from A to B without incident.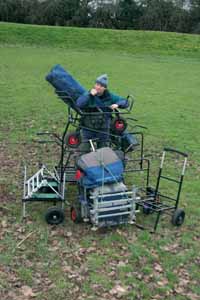 tcf The Test
This test is a no-brainer for the team, as editor Gareth Purnell carries a shedful of gear to any match he fishes. So to give you a true picture of what each of our eight tackle items on test can cope with, we are loading each with his kit.
Before getting to grips with the loading and moving, we first look at how easy it is to get the trolley/barrow into Gareth's estate car, how long it takes to put the item together and finally how quickly we can load up.
Once ready we take each trolley/barrow on a journey around the muddy, uneven banks of the upper Warwickshire Avon to see haw each copes with the terrain.

WHAT TO LOOK FOR IN A TROLLEY OR BARROW
1 Does it fold flat and take apart easily?
2 How easy is it to set up?
3 Does it come with bungees or straps?
4 Has it got hard or soft tyres?
5 How heavy is it?
6 Is it stable when fully loaded?
7 What's the wheel position?
8 How strong is the frame?
9 How far do the handles extend?
10 How big is the loading area?
---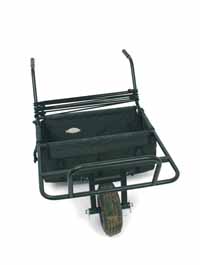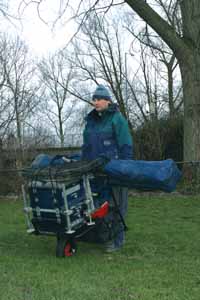 FISHRITE
LOAD-UP BARROW
RRP: £59.99
Load space: 28in x 25in
No. of wheels: One
Wheel type: Pneumatic
Weight: 17lb 8oz
Bungees: Yes
Contact: www.fishrite.co.uk
tcf Verdict
Steve says: Won the bungee stakes by miles – came with two about 3m long each. Only one tested with a barrow bag incorporated into base. The bucket squeezed in here. Both of us felt crouched over without the rod bag across the handles, because when we stood up the barrow wanted to overbalance forward. But with the rod bag on it was counterbalanced and much better although others were easier to push along. We felt it would be better balanced if the wheel extended in front of the frame.
---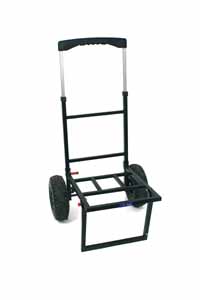 DRAGON MATCH
PACKLOADER PUMP-UP TROLLEY
RRP: £24.99
Load space: 18in x 14in
No. of wheels: Two
Wheel type: Pneumatic
Weight: 13lb 4oz
Bungees: No
Contact: www.dragoncarp.com
tcf Verdict
Gareth says: The only trolley which featured a brake. Plus points included the wide frame at the back and the wide, suitcase-style handle, which allowed you to move your hand across to achieve the best balance in transit. However, for us the handle didn't extend high enough so it was hard to keep it at the ideal low angle, which would stop it trying to fall forward. A wider wheelbase would give it more stability too – it's not a trolley for rutted terrain.
---
PENROSE
BARROW PLATFORM XL
RRP: £89.99 incl. delivery
Load space: 26in x 24in
No. of wheels: One
Wheel type: Pneumatic
Weight: 31lb 8oz
Bungees: No
Contact: www.penrose-uk.com
tcf Verdict
Steve says: The heaviest of the barrows but very sturdy with a great big wheel that handled difficult and muddy terrain really well. Importantly this extended out beyond the frame and there was no danger of overbalancing. Fantastic roomwise – I was able to put all the gear on including the rod bag with room for a lot more. The padding on the handles could have been better and more securely attached and the rear legs sunk into soft terrain when loaded. Also gave you a very large platform to use once at your peg. Our second favourite of the barrow types.
---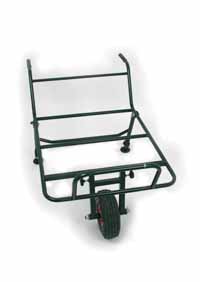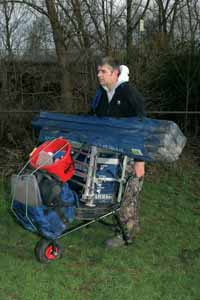 JRC
SINGLE-WHEEL BARROW
RRP: £60
Load space: 25in x 281/2in
No. of wheels: One
Wheel type: Pneumatic
Weight: 15lb 4oz
Bungees: Yes
Contact: www.jrcproducts.com
tcf Verdict
Steve says: Featured a lip at the front of the frame which helped keeps things on, plus adjustable mudfeet at the back. We needed to use the net bag on the frame to create a base to put the rest of the gear on but that was not a real problem. The wheel was tucked under the frame and we felt this made us a bit cramped once in motion, and it was more difficult to achieve good balance than on some of the others. Handgrips securely attached but a bit thin.
---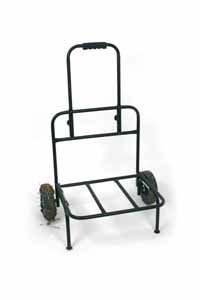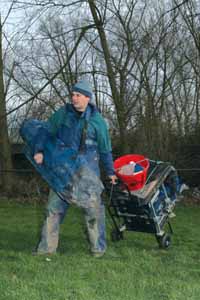 STEVE CLAYTON
MATCH TROLLEY
RRP: £29.99
Load space: 15in x 20in
No. of wheels: two
Wheel type: Pneumatic
Weight: 131/2lb (in bag)
Bungees: No
Contact: www.lureflash.com
tcf Verdict
Gareth says: The wide backplate was a plus for getting things secured and I used my MatchBox footplate to extend the base and take my carryall. Once going it was light and moved over difficult terrain easily enough. The back was welded onto the frame and I'd be concerned about it giving way under a heavy load. Also I felt it kept pulling on my arm as it tried to topple back in transit. A longer handle would have given me a lower angle and stopped that.
---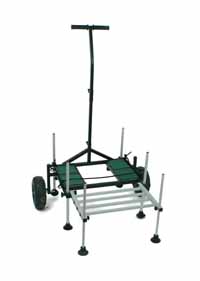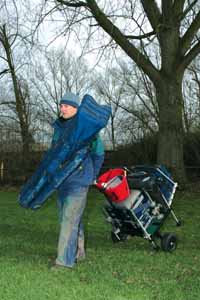 *****BEST TROLLEY!!****
MAVER
DELUXE PLATFORM TROLLEY
RRP: £69.99
Load space:  16in x 24in (plus footplate)
No. of wheels: Two, detachable
Wheel type: Pneumatic
Weight: 25lb 8oz
Bungees: Yes
Contact: www.maver.co.uk
tcf Verdict
Gareth says: Nice wide wheel base, and stable and comfortable to pull over even muddy ground. Came with an integral footplate you can put your carryall on enabling you to spread the load horizontally and not have to pile things too high. Loaded like this the bungee straps were the perfect length to secure things. Nice, rubberised grip, easy and light to pull. Easily our favourite of the trolleys.
---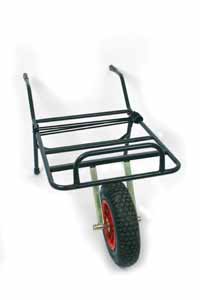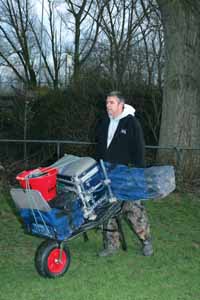 *****BEST BARROW!!****
CHUB
CARP TRANSPORTER
RRP: £79.99
Load space: 30in x 201/2in
No. of wheels: One
Wheel type: Pneumatic
Weight: 19lb
Bungees: Yes
Contact: www.chubfishing.co.uk
tcf Verdict
Steve says: A big thumbs up to this barrow. Very light yet sturdy and the big, single wheel moved easily through even over muddy ground, up- and downhill. Rod holdall was easily carried across the handles with room for a second. Net bag was needed across the frame to create a base for the rest of the gear. Supplied bungees were not quite long enough so we used Gareth's. With the front wheel in front of the frame the balance was first rate. The rubberised grip was very good too – firmly attached and featuring finger moulds. Only problem was that the rear legs sunk into muddy terrain a bit when fully loaded. Barrow bag available. We were impressed!
Note, the Fox match barrow came out after this test was done but won plaudits from both Gareth and Steve when it did.
Conclusion
It was interesting to compare standard anglers' trolleys with the barrow type that started life in carp fishing but is now in common use with pleasure and match anglers.
In terms of transportation all the barrows had removable wheels and retractable rear legs and could be loaded virtually flat into the back of an estate car. But they had quite big frames that would not fit into the boot of a saloon car, unless you folded down the rear seats. The trolleys were more compact and all folded flat to fit into a car boot. The wheels were all removable apart from those on the Steve Clayton, but on this one the wheels folded in and the whole trolley went into a carry bag supplied with it. With the Maver the integral footplate wouldn't fold flat unless you removed it, but even with it still attached you could get it in your boot.
Overall, with the trolley type the secret was to try and spread the load horizontally rather than vertically. By doing this the trolley was much better balanced in transit and easier to pull behind you through tricky terrain. With some of those tested Gareth was able to use his MatchBox footplate to do this, although it wasn't possible on all of them.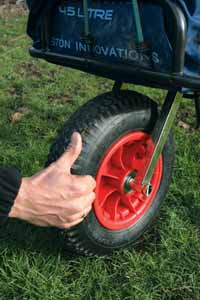 The front wheel extended in front of the frame on both the Penrose and the Chub.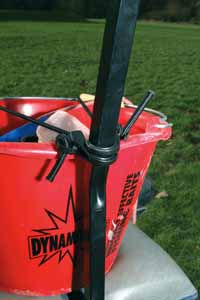 On the Maver the bungees were the
perfect length.
Look too at the sturdiness of the construction. When you first tilted the trolley to get it going, the frame and handle connection had to take a lot of weight, and if it was just welded there would be a danger of it giving way under a heavy load.
Another key feature we looked at was how far the handle extended. If it didn't extend far, we were forever crouching because when we stood up straight the trolley was always trying to topple back, putting unnecessary strain on the arm. A longer handle would definitely give a better balance, reducing strain on your back and arms when traversing rough or soft, muddy terrain,
The Maver trolley came with an integral footplate, so we didn't need to use Gareth's footplate to spread the load. With a nice, wide wheelbase and wide pneumatic wheels it was very easy to pull even through mud while the supplied bungees were the correct length for securing everything down. The handle extended up to 57 inches off the ground (the most) helping it retain its balance when pulled it along with no need to crouch. Although it took the longest to put together, it wasn't rocket science and it was easily the best trolley in this test.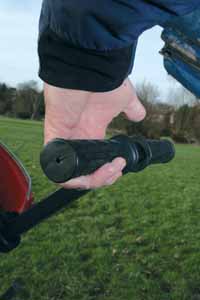 The longer the handle extended on the trolleys, the better…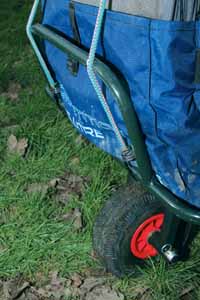 A lip on the front of the barrow was a plus for keeping things on.
The barrow test was interesting too, and the key factor proved to be the position of the wheel. With two of the barrows the wheel was directly under the frame meaning you were closer too it. We found this to be a problem, as everything was at a steeper angle when you were moving and balance was harder to maintain.
With the Penrose you could have the wheel under or in front of the frame with the former much better in our view. With the Chub the very large front wheel also extended in front of the frame.
The reason it was better was that with the wheel further away from you, a very low angle was created from the ground when you were moving. It seemed a simple thing but critical and both the Penrose and the Chub were easily the best balanced and easiest to push of the barrows.
The Penrose was heavy, but gave you the advantage of taking a large platform with long legs to your peg. The Chub was just a barrow, but was the lightest and easiest to push along of all the barrows tested. Fox has a trolley coming out very soon which we're hoping to look at next month.

---