Chub Sat-A-Lites SL-200 Head Torch
This is the head torch I have been using all year and I have to say I am very impressed.
I have used several head torches over the years and all of them have proved to be eminently breakable, but not the SL-200 which is still going strong.
The head torch itself pivots easily but locks in positions solidly, and there are several useful light settings.
The main 'white light' beam from the central 1W bulb has a high and low setting plus a flashing option, and gives you a really focused beam if needed.
There's also a triple 0.5W light above the main bulb which can be set at white, red or red flashing. Plus there's a rear red bulb on the battery pack with two options.
The battery pack holds three standard AAA batteries (which are conveniently included and easily fitted), and battery life is good with the SL-220 boasting 10 hours in High mode and much longer in the lower modes. If you used it in the flashing red light mode you would get some 80 hours of battery life. Plus the bulbs are LED and never needs replacing.
It's water resistant, robust, comfortable and light (just over 4oz) and gets the 'geepster' thumbs up!
Fact File
Product: Sat-A-Lites SL-200 Head Torch
Price: £24.99
Website: http://www.chubfishing.com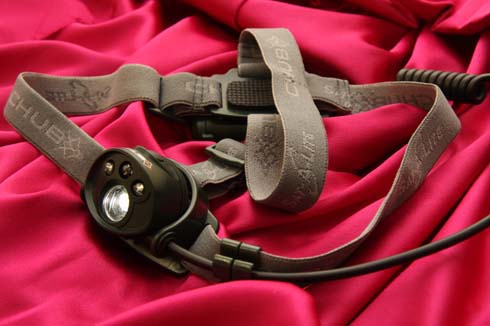 The Chub Sat-A-Lites SL-200 is robust, comfortable and boasts a long battery life.
---