A brand new angling show for satellite TV viewers – Game Fisher's Diary – is to be broadcast on Discovery SHED from Friday December 6th 2013, running until January 24th.

The made-for-TV series from 'Fishing TV' sees presenter Rae Borras travel around England, Ireland and beyond to pit his wits against some of the canniest fly fishing adversaries around, and meet characters who make their living from the sport.
His adventures take him from Yorkshire to Ireland, Iceland to France, Scotland to the iconic River Test in Hampshire, as he fishes for salmon, trout and Arctic char and enjoys plenty of laughs along the way.
The eight programmes will be broadcast in a series of 'double headers' on Friday nights from 10pm on Discovery SHED – the full broadcast schedule and episode breakdown is below.
The entire series, including several additional episodes, is available to 'Fishing TV Premium' members online, on mobile and on tablet, and will soon be available under the free to download 'Fishing TV' app on Samsung Smart TV and blu-ray. 'Fishing TV Premium' membership costs from just £3.99 a month – find out more at www.fishingtv.com .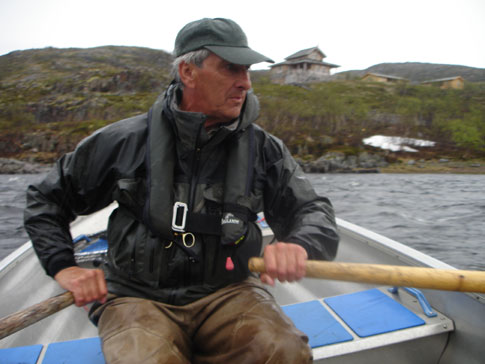 GAME FISHER'S DIARY ON FISHINGTV
http://www.onlinefishing.tv/premium/game/series-episodes/41
FISHING TV – HOW IT WORKS
http://www.onlinefishing.tv/information/how-it-works
'GAME FISHER'S DIARY' BROADCAST SCHEDULE
Friday December 6th
10pm Ripon Yarns
10.30pm Amwell Magna
Friday December 13th
10pm The French Connection
10.30pm Just One Fly
Friday December 20th
10pm Maldives Hideaway
10.30pm Autumn Tweed Salmon
Friday January 24th
10pm The County Kerry Experience
10.30pm Iceland: Arctic Char And Salmon
'Game Fisher's Diary' Episodes On Discovery Shed
RIPON YARNS
Rae Borras enjoys the river fly fishing around the Yorkshire market town of Ripon in the company of local characters.
AMWELL MAGNA
Rae Borras joins the oldest fly fishing club in England to find out what anglers can achieve if they work together.
THE FRENCH CONNECTION
Rae Borras samples the quality fly fishing, spectacular surroundings and amazing hospitality of the Auvergne region of central France.
JUST ONE FLY
Rae Borras joins angling celebrities from far and wide for the River Test's One-Fly Competition.
MALDIVES HIDEAWAY
In this episode Rae Borras takes up a once-in-a-lifetime offer to visit an exclusive island hideaway in The Maldives in the Indian Ocean to explore its game fishing potential – after all, who wouldn't?
THE COUNTY KERRY EXPERIENCE
Rae Borras falls in love with County Kerry in Southern Ireland, with its characters, and with its fly fishing.
AUTUMN TWEED SALMON
Rae Borras visits Scotland's hallowed River Tweed at his favourite time of year, with superb salmon fishing on the menu.
ICELAND ARCTIC CHAR AND SALMON
Rae Borras is determined to catch an Icelandic salmon… but first a sport of Arctic char fishing.