In anglers like Steve Ringer and Alex Bones, Guru, and offshoot of the Korda brand, boasts some of the most experienced and talented commercial fishery matchmen in the land, and anything they bring out is worth a second look.
This high-tech Japanese co-polymer mono line is quite low stretch and designed with hooklengths and pole rigs in mind.
It's soft, supple, retains almost no memory and knots really very well indeed – and tests show that if you use the recommended knots (a 'figure of eight' for loops and a 'Palomar' for eyed hooks and swivels) most of the breaking strain is retained.
Expect to pay about £4.99 for a 100m a spool.
Sizes (all on 100m spools):

4lb (0.13mm)
5lb (0.15mm)
6lb (0.17mm)
7lb (0.19mm)
9lb (0.22mm)
12lb (0.25mm)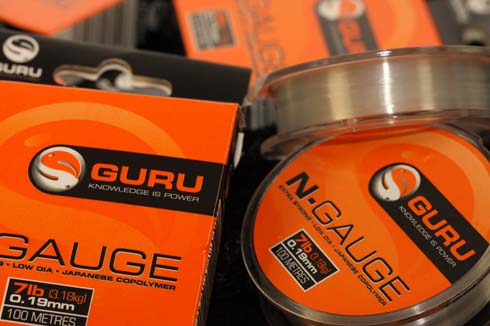 Guru N-Gauge line is designed for match anglers with feeder hooklengths and pole rigs in mind.
---