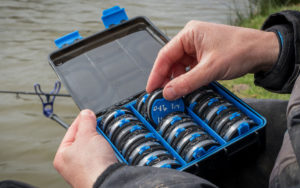 Preston Innovations have introduced an alternative to hooklength retaining boxes with the Revalution Storage system which utilises EVA spools and a rotating plastic pin to keep things in place and add a new slant to spool hooklength storage.
You get 21 spools in the clip-seal box which has a semi-transparent lid.
You can mark both the spools and the inside of the lid for hook and hooklength identification. Expect to pay about £24.99.